Ole Bill Baxley has been in the news a lot this year. He was the lead defense counsel for former Speaker Mike Hubbard's ethics conviction trial over in Opelika. Baxley practices law in Birmingham and is one of the state's premier and most expensive criminal defense lawyers. Like a good many of the top defense attorneys, Baxley was first a prosecutor and a doggone good one.
Baxley was born and raised in Dothan, the heart of the Wiregrass. His family was one of the original settling families in Houston County. His daddy Keener Baxley was the Circuit Judge in Houston and Henry counties. Mr. Keener had been the District Attorney prior to going on the bench. Bill grew up in his daddy's courtroom. There was no doubt in his mind that he would be a lawyer.
Baxley was a child protégé. He also had a meteoric rise in Alabama politics. He finished Dothan High School at 16, the University of Alabama at 20 and Law School at 22. He became the District Attorney in Houston and Henry Counties at the age of 24. He was elected Attorney General of Alabama at the ripe old age of 28 and served eight years as the state's top prosecutor. Unlike many of the recent attorney generals, who actually know nothing about criminal prosecution, Baxley though young was well qualified and an effective prosecutor. Baxley was elected lieutenant governor in 1982 and ran second for governor twice, once in 1978 and again in 1986.
Bill Baxley like most politicians had his favorite stories and jokes. His best that he told repeatedly throughout the years took place in October over 50 years ago. It was during the Cuban Missile Crisis. Most of us thought our world was coming to an end. The story was about an ole guy named Squatlow. I am not sure whether this story is true or not but it could very well be true.
Squatlow got his nickname because he would squat down low to the ground whenever he talked with folks. Ole Squatlow would hunker down with a chew of tobacco in his mouth and gossip and swap stories all day.
Baxley was a young District Attorney for Houston and Henry Counties.  Dothan and Houston County has about 90 percent of the people in the Circuit with Henry County being the home to about 10 percent. Baxley was a youthful 25-year-old district attorney and would travel to Court on occasion in Henry County to prosecute the few criminals they had in Henry County.
Baxley like most politicians would stop at a country store and drink a coke with the rural folks in the area. Henry County is a very sparsely populated rural county in the Wiregrass with two small towns, Abbeville and Headland.  Abbeville happens to be the county seat.  
Squatlow had a mechanic shop/gas station/grocery store in the obscure community of Tumbleton in Henry County.  His whole world was no bigger than that county.  The biggest places he had ever been were Abbeville and Headland with a population of about 1,000 people each.
Well, they may have been back in the woods, but they knew about the Cuban Missile Crisis and the standoff between the United States and Russia.  It was a scary situation.  I think most people were afraid that a nuclear war was imminent.  The whole world was on edge.
During the week of this crisis, Baxley while traveling to court in Henry County, stopped by Squatlow's store in Tumbleton.  Squatlow and all the folks in the little community were scared.  This was obviously the topic of conversation that day.
Ole Squatlow sauntered down in his lowest squatting position and just shook his head.  "You know, I've been thinking about it all night, and I just know those damn Russians are going to bomb Abbeville.  Yeah, they gonna drop one of them atom bombs right on Abbeville" said old Squatlow.
Baxley looked at Squatlow and said, "Squatlow, why in the world would the Russians drop a bomb on Abbeville, Alabama?" Squatlow looked at Baxley like he was the most stupid person he had ever seen.  He shook his head at how ignorant this young, 25-year-old lawyer was. He looked at Baxley and said, "Boy, don't you know nothing?  Don't you know that Abbeville is the County Seat of Henry County?"
See you next week.  
---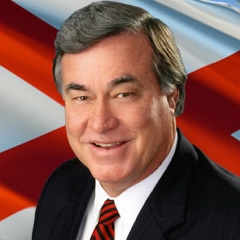 Alabama's premier columnist and commentator, Steve has analyzed Alabama politics for national television audiences on CBS, PBS, ABC and the British Broadcasting Network. Steve has been an up close participant and observer of the Alabama political scene for more than 50 years and is generally considered the ultimate authority on Alabama politics and Alabama political history.
All author posts