The conviction and downfall of Alabama Speaker of the House Mike Hubbard is the political story of the year. It has not been the most profound conviction of an Alabama public official in my lifetime. We have had two governors convicted of crimes while in office and removed in fairly recent years, Guy Hunt a Republican and Don Siegelman a Democrat. Siegelman is still in federal prison in Louisiana. However, Hubbard's trial has been the most anticipated and most dramatic.
Rumors of a grand jury investigation surrounding Hubbard started in the summer of 2013. In October of 2014, Hubbard was indicted by a Lee County grand jury of 23 counts of felony ethics law violations. His indictment has been the subject of political and media conversation for over 20 months. It culminated on Friday night June 10th, when a Lee County jury returned guilty verdicts on 12 of the 23 counts. Hubbard faces 2 to 20 years in prison on each charge and a maximum $30,000 fine. Given the magnitude of the overwhelming conviction, Hubbard is probably looking at real prison time in a state prison. Sentencing is set for this Friday in Lee County.
As a perfunctory course of action his defense lawyers will file an appeal. However, Hubbard would be better off to forego this process. It is very improbable that an appeal will be given any credence.
The judge in the case, Jacob Walker III, presided flawlessly without any hint of prejudice. He has been on the bench in his lifetime home of Lee County for 15 years and did a good job of running an efficient and errorless trial. He is rightfully very well respected by the folks in Lee County and throughout the state. He even read the detailed instructions to the jury straight from the book without any deviation or emphasis.
The jury listened intently throughout the grueling 12-day trial, even during the monotonous charge from the judge and the boring half day accountant's discussion of Hubbard's finances. There was no error in this case. An appeal is a waste of time and probably what little money Hubbard has left. Bill Baxley did not defend him for free.
I have not watched that many jury trials. However, I have never seen a more diligent jury. They paid rapt attention to every detail and took extensive notes and came back with a verdict similar to precisely what most reasonable men and women throughout the state would have rendered. They only deliberated seven hours and came back with their convictions, which were a clear as the nose on your face.
They convicted their fellow Lee Countian and Republican Speaker of the House.  He was found guilty of using his office as Speaker to secure numerous consulting contracts. Sometimes these contacts brought in totals of over $30,000 a month and totaled over $2 million.  For one of the clients, the American Pharmacy Cooperative (APCI), Hubbard inserted language in the budget that gave them an exclusive contract to provide pharmaceuticals for Medicaid and then voted on that budget.
Not only did Judge Walker and the jury do an exemplary and thorough job, the lawyers in the case did also. The prosecution team, led by Matt Hart, Van Davis and a young prosecutor Michael Duffy, were excellent. Bill Baxley was superb for the defense.
So what are the ramifications of the Mike Hubbard downfall? First of all, Hubbard's seat in Lee County is vacated. A Special Election will be held. The Auburn area obviously loses clout in the Legislature. Hubbard, who is credited with leading the Republican takeover of the Alabama House in 2010 was the most powerful Speaker in memory. His removal leaves the House rudderless because the Republican super majority followed him like sheep.
Victor Gaston, the Speaker Pro Tem, ascends to Speaker. A new Speaker will be elected when the House convenes again. Several names are mentioned as Hubbard's successor, Steve Clouse, Mac McCutcheon, Lynn Greer and Mike Jones. It will be an interesting evolvement.
This crisis of leadership in the House comes at a time when Medicaid, which covers more than 20 percent of Alabamians, received $85 million less than it says it needs to survive and the state's prisons are at 182 percent capacity and facing possible federal takeover. Ironically, one of these state prisons will probably be where Mike Hubbard soon calls home.
See you next week.
---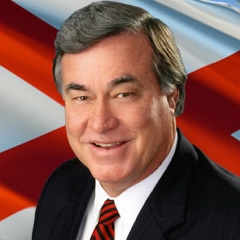 Alabama's premier columnist and commentator, Steve has analyzed Alabama politics for national television audiences on CBS, PBS, ABC and the British Broadcasting Network. Steve has been an up close participant and observer of the Alabama political scene for more than 50 years and is generally considered the ultimate authority on Alabama politics and Alabama political history.
All author posts