As the budget hearings began for the 2016 Legislative Session in January the largest Powerball lottery sweepstakes in American history was playing out. It was one of the biggest news stories of the year, thus far.
Legislators were hearing the same song second verse that they heard last year. The General Fund is about $200 million short. If the money is not found, we will lose $500 million in Medicaid federal matching dollars, most state highways will be without state troopers, and most counties, not just in the Black Belt, will be unable to grant or renew driver's licenses. In addition, the federal courts will take over our prisons and more than likely release hundreds of convicts on the streets and state employees will either be let go or have their take home pay cut again for the eighth straight year.
At the same time that legislators were hearing that Alabama needs $200 million to make ends meet, most of their constituents were buying lottery tickets in Georgia, Florida and Tennessee and the rest were going to Biloxi to the casinos. Ironically, the amount of money that Alabama would receive from having their money stay in state from a lottery is $200 million.
Most Alabamians find it ludicrous that we allow our money to exit the state to our neighboring states. Alabama and Utah are the only two states in America who derive no state revenue from gambling. We are one of only five of the 50 states who have no lottery. Our neighboring state of Mississippi does not have a lottery because they get most of their state revenue from casino gambling.
The largest number of lottery tickets sold in the recent Powerball in Tennessee, Florida and Georgia were in outlets on the border of Alabama and guess who was buying the tickets? You guessed right, Alabamians. They say the lines on the Florida border were so long that they backed up to Andalusia and Atmore.
The last time that Alabamians were allowed to vote on a lottery was 1999. It lost on a narrow vote because of the large amount of pork and questionable spending attached to the constitutional amendment. State Senator Jim McClendon (R-St. Clair) has come with a clean lottery proposal. It is very simple. It succinctly calls for a yes or no vote on an Alabama owned lottery. The proposal does not lay out any details for the operations of the program nor does it spell out how the money would be spent.
If passed by the legislature it would go before voters in the November general election. The legislature would then establish a lottery in the 2017 Regular Session.
Sen. McClendon in announcing his reason for offering the legislation said that he was simply trying to respond to demands of his constituents who have told him, "Let us vote. We want to vote." He added, "I have heard it time and time again."
At least one legislator is listening to his people who sent him to Montgomery. The hew and cry from throughout the state is deafening. People want to vote. Polling reveals that the lottery would pass by a two to one margin at this time if put on the ballot. My guess is that it would be more like three to one. Alabamians are sick and tired of their money funding the governments of Florida and Georgia.
Democrats in the House and Senate want the lottery to be similar to Georgia's, which allows all the money to accrue only to education.
The people of Alabama want the right to vote. It is hard to understand how a legislator could justify not voting to allow his or her constituents the right to vote on this issue.
Alabamians gamble and Alabamians buy lottery tickets. They want their money to stay home. As Sen. McClendon said his people, who by the way are mostly Republican in a non-border suburban Jefferson and rural area of the state are telling him, "Let us vote," then most Alabamians are telling their representatives and senators the same thing.
A constitutional amendment requires a two-thirds vote of both chambers, 63 votes in the House and 21 votes in the Senate to allow a vote of the people on the lottery issue.
See you next week.
---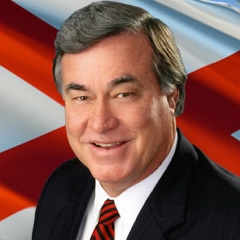 Alabama's premier columnist and commentator, Steve has analyzed Alabama politics for national television audiences on CBS, PBS, ABC and the British Broadcasting Network. Steve has been an up close participant and observer of the Alabama political scene for more than 50 years and is generally considered the ultimate authority on Alabama politics and Alabama political history.
All author posts