In 1986 Richard Shelby was a 50-year-old congressman from Tuscaloosa. He was elected to congress eight years earlier, after two successful four-year terms in the Alabama State Senate. However, Shelby was ready to move up again.  He was planning to run for the United States Senate.
Shelby had never lost a political race. He was six for six in races to represent his beloved Tuscaloosa and the people of West Alabama. He was a conservative Democrat, who had a stellar conservative voting record. He was safe in his U.S. House seat. In fact, it appeared that the congressional seat was his for life. His decision to challenge an incumbent U.S. Senator was a gamble.
Shelby's friends cautioned him that a race for the U.S. Senate against an incumbent would be an uphill battle and he should not risk his safe congressional seat.  However, Shelby was undeterred in his decision.
One factor that the average political observer was not aware of was that Shelby probably sensed that his congressional district was destined to be the first African American district after reapportionment in 1990. The tea leaves were correct. That is what happened to Shelby's 7th district.
Although it would be a daunting task to upset an incumbent U.S. Senator, Jeremiah Denton had written the book on how to lose a Senate seat during his six-year term. Denton was elected as Alabama's first Republican senator since Reconstruction in 1980. He had been swept into office on the coattails of Ronald Reagan, who carried Alabama in a landslide. Alabamians knew very little about Denton, except that he had been a naval officer and a well-known national POW in the Vietnam War. His patriotic POW position sold well in Alabama, especially with Reagan headed to the White House.
Denton let it be known early that he wanted to be the moral police chief of the U.S. Senate. He clearly wanted to be the point man and most ardent voice for morality, chastity and anti-abortion issues. He was not interested in bringing home any bacon for Alabama or fixing any potholes. He actually bragged that he was a national U.S. Senator and not an Alabama U.S. Senator, thus openly signaling that we would only have one U.S. Senator, Howell Heflin, to fight for our interests in Washington.
The examples of constituent neglect and disinterest by Denton are too numerous to recant, but a few examples will give you an idea of his cavalier attitude toward reelection. Each year the Alabama Farmers Federation sends an entourage of 200 to 300 of the most prominent farmers in the state to meet with and lobby their senators and congressmen on federal issues affecting farmers. These men are the most respected leaders and centers of influence in their counties. Heflin and the other congressmen literally met them at the airport to court them. They would have breakfast and dinner with them.
However, these farmers had to have an appointment with our "National Senator" Denton. They arrived at his office at the appointed time. All 300 of them were kept waiting 2 1/2 hours, then an aide came out to tell them that Denton was too busy dealing with national issues and did not have time to meet with them.  One of the wealthiest and most prominent men in the state called Denton six times to simply express his opinion on an issue. Denton is yet to call him back. Thus, he vowed to give Denton's opponent all the money he needed to beat Denton.
In addition to not returning phone calls, Denton never answered letters from constituents, even heartfelt handwritten notes of interest on federal legislation. He was basically considered a nut in Washington and was consistently ranked the most ineffective senator in the 100-member Senate. He made colossal blunders in the 1986 campaign. He said he was too busy to come home and campaign and kiss babies.
Shelby beat Denton but it was close.  Shelby had to spend some of his personal money the last week of the campaign to carry out the upset.  Alabama has been the better for Richard Shelby's 1986 gamble. He has been our Senator for 30 years, having been reelected in 1992, 1998, 2004, and 2010.  He will be easily reelected to a 6th six-year term next year.
See you next week.
---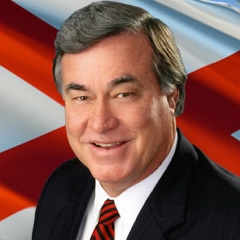 Alabama's premier columnist and commentator, Steve has analyzed Alabama politics for national television audiences on CBS, PBS, ABC and the British Broadcasting Network. Steve has been an up close participant and observer of the Alabama political scene for more than 50 years and is generally considered the ultimate authority on Alabama politics and Alabama political history.
All author posts