This first year of the quadrennium has been an interesting mix of politics in the Heart of Dixie. At the heart of the news and interest has been the continuous wrangling over the General Fund budget. From the get go, Gov. Robert Bentley has taken a gung ho approach to raising taxes to bolster the beleaguered General Fund.
Beginning in January, Bentley laid down his proposals for the legislature to increase revenue to solve the problems and predicted shortfalls. He relentlessly stayed on course with his intentions. His resolve to raise new money never wavered, although his proposals changed numerous times.
The legislature, which is over two-thirds Republican, systematically and consistently rebuked their fellow Republican governor and turned thumbs down on his onerous new tax ideas. These GOP legislators are real Republicans. They are as conservative as their constituents, who sent them to Montgomery. They are reflective of their views. Therefore, they are adherent to the cardinal rule of Republicanism, "No new taxes."
There is a maxim and indeed fundamental element of constitutional government that the governor proposes and the legislature disposes. The legislature controls the budgeting of state government. The governor implements the execution of state operations.
This legislature has made it clear that they could not care less what Bentley offers. He has been rendered irrelevant in the budget process. Bentley probably should not waste time offering any more proposals or proposed budgets his remaining three years as governor. He is essentially a lame duck for his remaining term. He has been relegated to cutting ribbons his remaining days in politics.
Bentley probably wishes he had never run for governor. It has cost him his marriage of 50 years and over 50% of his lifetime savings of 40 years as a successful dermatologist.
This exclusion of the governor is nothing new and not exclusive to Bentley. This legislative independence has been evolving for 30 years. In the 1960's and 70's George Wallace controlled the legislature as though it was an appendage of the governor's office. However, beginning with Fob James the legislature started to exert itself and take control. They pretty much kicked Fob to the curb.
During Bob Riley's eight year tenure, the legislature simply threw his budgets in the nearest trashcan. Most legislators did not even attend Riley's opening session legislative agenda speech. They at least were courteous to old Bentley because they seemed to like him. Like most people, he reminded them of an old shoe. However, they will probably ignore him the rest of the quadrennium.
Well if you think this first year of the four year stint has been tumultuous for the legislature, you ain't seen nothing yet. 2016 portends for some serious disruption.
It is a given that the Speaker of the House, Mike Hubbard, will be on trial in Lee County. He is facing 23 counts of ethics law indictments. Regardless of whether he is convicted, his trial begins in March and will probably last six weeks or more. This means that he will not preside as Speaker for the paramount portion of the legislative session. This will render the House of Representatives rudderless. They are accustomed to following Hubbard like puppets, so they will be like subjects without a king to guide them.
The Senate is made up of 25 Republicans and 10 Democrats. The Republicans are divided into three camps and most of them perceive themselves to be mini governors who want to offer their own agendas. The only thing they are united on is keeping the Democrats from having any say on anything.
The real caveat is that they will not accept the fact that a three-judge federal panel is reviewing a decision handed down by the U.S. Supreme Court that the legislature's 2012 redistricting lines have some racial problems. There is a good chance that these federal judges will make them all run again next year.
See you next week.
---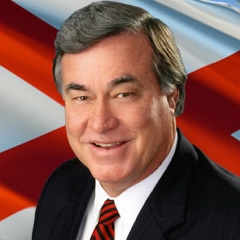 Alabama's premier columnist and commentator, Steve has analyzed Alabama politics for national television audiences on CBS, PBS, ABC and the British Broadcasting Network. Steve has been an up close participant and observer of the Alabama political scene for more than 50 years and is generally considered the ultimate authority on Alabama politics and Alabama political history.
All author posts