The 2014 General Election is Tuesday. It is set to be uneventful. I predicted over a year ago that this election year was going to be dull and, folks, my prognostication has come to fruition. This year has been a yawner from the get go.
Even the GOP and Democratic primaries in June were void of any drama. As the results trickled in from the summer primaries, there were absolutely no surprises or upsets. Even in the face of historic low voter turnout, every favorite or incumbent prevailed and usually by the margin suggested by polling.
The low voter interest and predictability were for obvious reasons. There have simply not been any close or interesting statewide races this year. The governor's race is generally the paramount premier political show every four years, but not this year.
Gov. Robert Bentley began the year with incredible approval ratings in the polls. His popularity does not stem from his job performance as much as it does from his likeability factor. Alabamians simply like the retired physician. Most importantly, they trust him. He reminds older Alabamians of the country doctors who once made house calls. Bentley feels as comfortable as an old shoe.
The Democrats have become the minority party in Alabama state politics. So much so that winning the Republican primary for governor is tantamount to election in the Heart of Dixie.  Bentley won the Republican nomination in June with an amazing 90% of the vote against two token opponents.
The Democrats fielded a credible candidate in Parker Griffith. Ironically, both Bentley and Griffith are retired physicians. I doubt that will ever happen again in Alabama history where two 72-year-old retired physicians are the two candidates for governor. At least whoever is elected governor will be intelligent.
Griffith has governmental experience. He has served one term in the State Senate and one term in Congress from Huntsville. Being from Huntsville is one of the reasons Griffith's name identification remains fairly low. Most voters do not get much news from Madison County, which itself probably feels a closer kinship to Nashville and Tennessee.
Nevertheless, Griffith has run a valiant campaign. He has attacked Bentley on the issues. He has stressed several major topics on which the two doctors' differ. Griffith supports expanding Medicaid and starting a state lottery for education. He describes Bentley as a nice man but too beholden to the extreme right wing. He has also criticized Bentley for signing a school choice bill that Griffith says has "choked and bled dry" the state's public schools. Griffith's sharpest attack against Bentley has been on Bentley refusing to expand Medicaid. He says, "Our people are without health care only because Gov. Bentley doesn't like who's in the White House." Regardless, the polling has shown for months that Gov. Bentley commands a 20-point lead over his Democratic challenger, Dr. Griffith.
Lt. Gov. Kay Ivey should have no trouble disposing of former Cullman State Representative, James Fields, in her bid for a second term.  Popular State Treasurer, Young Boozer, will waltz to a second four-year term. John Merrill, who ran a spirited race for Secretary of State in the Republican primary, will have little trouble turning back a challenge from Democrat Lula Albert-Kaigler and Jim Ziegler should easily defeat Miranda Joseph in the State Auditor's race.
All Republicans have an inherent advantage on a statewide ballot. This should help incumbent Luther Strange in his bid for reelection as Attorney General. However, this will be the closest race to watch next Tuesday.
Strange is being challenged by Montgomery State Rep. Joe Hubbard. Young Mr. Hubbard, who is the great grandson of Senator Lister Hill, has run a well-financed and organized campaign. If he falls short, it will be because he is a Democrat and a good many Alabama voters may mistake him for the embattled Speaker of the House, Mike Hubbard, who has been bombarded with negative publicity for over a year.
Do not forget to vote next Tuesday.
See you next week.
---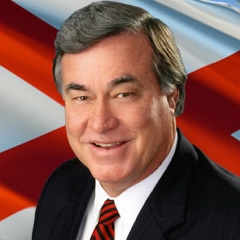 Alabama's premier columnist and commentator, Steve has analyzed Alabama politics for national television audiences on CBS, PBS, ABC and the British Broadcasting Network. Steve has been an up close participant and observer of the Alabama political scene for more than 50 years and is generally considered the ultimate authority on Alabama politics and Alabama political history.
All author posts