A recent Fortune magazine article ranks Alabama as one of the top ten states when it comes to corruption.  We were ranked number six.
The rankings were determined by a study of convictions of public officials for violations of federal corruption laws between 1976 and 2008. A good many of our sister southern states also made the list.  Not surprisingly Louisiana came in at number two.  They are a perennial corruption leader.  It is part of their culture.  They are proud of their status as one of the nation's most corrupt environs.  They are probably disappointed that they are not number one.  Mississippi grabbed that ranking.  Our sister states of Kentucky, Florida and Tennessee made the top ten along with us.  That is six of the top ten.  It looks like a final Associated Press Top Ten College Football ranking.  It looks like corruption and college football go hand-in-hand.
There actually might be a tie to the two in our next corruption scandal.  A Lee County Grand Jury has been scrutinizing House Speaker Mike Hubbard of Auburn for close to a year.  Hubbard's business career has revolved around being the producer of programming for Auburn athletics, more specifically, Auburn football.  The Grand Jury may be looking into this contract to televise Auburn football. There has been a lot of smoke, speculation, and rampant rumors coming out of Auburn and Lee County for quite awhile.  It's about time they either fish or cut bait.
It is easy to indict someone.  There is an old saying that you can indict a potato and it rings true.  If they do not indict Mike Hubbard then he comes back stronger than ever.  He is a powerful Speaker of the House and if he survives this invasion then "Katie bar the door" for his enemies.  There is another old tried and true saying made famous by Machiavelli that if you attempt to slay the King, make sure you kill him.
The first name on Hubbard's enemy list is his nemesis, Attorney General Luther Strange.  Big Luther brought the investigation against Hubbard for political purposes.  Perusing the future political landscape Luther saw that Gov. Bentley would breeze to reelection this year.  It looked to him as though he and Hubbard would be the two top rivals for the brass ring in 2018. Ironically, neither one of them will likely win the governor's race in 2018.  A cursory historic study of past governor's races reveals that an unknown dark horse will come out of the blue and win.  Especially, when current office holders, who voters perceive as jockeying for the throne, snipe and connive against each other.
To come after someone politically with a witch hunt prosecution is a heavy sword to play.  Unfortunately, this card has been played far too many times in Alabama politics.  Politically prosecuting someone is persecution in the highest form.
Hubbard and his allies will never forgive nor forget this calculated attack by Big Luther.  They will seek retribution.  In fact, they already have.  The Attorney General's budget was cut to zero next year.
Luther Strange's selective prosecution has not been hidden and has surprisingly been noted by rank and file Alabama voters. The average citizen, even the Tea Partiers, are aware that all of the Indian casinos as well as Greene County gaming facilities are open.  Yet, the one with the largest out of state allure and the state's Crown jewel casino, Victoryland, in Macon County is closed down.  The Macon County track has the strongest constitutional amendment of all locations.  The people of Macon County approved it overwhelmingly and any high level federal tribunal void of Alabama politics would laugh at Bob Riley's and Luther Strange's heavy handed political grandstanding.  There have also been over 2,000 jobs lost in one of Alabama's poorer counties.
Turn about may be fair play.  Big Luther may be on the hot seat himself.  In a recent ruling out of Greene County, a Jefferson County judge, Houston Brown, angrily decried the actions of Luther Strange and his agents.  The judge declared, "It is apparent the State has presented statements which are clearly false, misleading, and made with a reckless disregard for the truth."  Judge Brown's ruling is a devastating blow to the credibility and integrity of Luther Strange's staff.
In conjunction with this stinging judicial rebuke, District Attorney Greg Griggers has secured an indictment of three people on Attorney General Luther Strange's staff for "perjury and lying." The three indicted Strange staffers are the same men used to close down VictoryLand.
See you next week.
---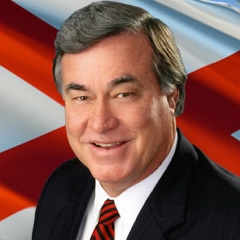 Alabama's premier columnist and commentator, Steve has analyzed Alabama politics for national television audiences on CBS, PBS, ABC and the British Broadcasting Network. Steve has been an up close participant and observer of the Alabama political scene for more than 50 years and is generally considered the ultimate authority on Alabama politics and Alabama political history.
All author posts