For the past year it has appeared that this year's election was going to be less than exciting. Now that the dust has settled it looks like that will pretty much be the case. This lackluster year has been created by the fact that incumbents hold all five of the top constitutional offices and all five, especially the governor, are pretty popular.
The field is set and the lineup card is in the hands of the scorekeeper. The primaries are set for June 3 with the runoffs coming six weeks later on July 15. The general election will be November 3. More than likely the governor, attorney general, lieutenant governor, agriculture commissioner and treasurer, all Republicans, will be reelected to a second four-year term.
That means that 2018 will be looming as a watershed year. You should see six or more big name thoroughbreds seeking the governor's post that year when Gov. Bentley cannot seek another term constitutionally. There are some naysayers who are saying, "Not so quick, my friend. I am not so sure that Bentley will be reelected."
Indeed the Democrats, who many have written off for dead in statewide races, have fielded a slate of candidates. If there was any surprise it came in that corner. The fact that the Democrats have a ticket to choose from is the surprise of the year. We will see if the assumption that winning the GOP primary in Alabama is tantamount to election in the Heart of Dixie.
In the governor's race incumbent Robert Bentley has two token challengers. He will hardly have to break a sweat or spend any money garnering the Republican nomination. In the fall, Bentley will more than likely face Parker Griffith, who will probably be the Democratic standard bearer.
Parker Griffith is a former congressman and state senator from Huntsville. He was elected to both of these posts as a Republican. He is a physician and businessman who is wealthy and has a propensity for spending his own money. That is what makes him a viable candidate. He is also handsome and articulate.
Bentley will prevail in November but Parker Griffith will net as many votes as a Democrat can get for governor. Most experts think that is about 42%. This race will be interesting to follow. It is also interesting that there will be two physicians pitted against each other in the fall. Bentley is a retired dermatologist and Griffith is a retired cancer specialist.
Lt. Gov. Kay Ivey will face a challenge within the GOP primary from Dr. Stan Cooke from Walker County. Cooke is the pastor of the Kimberly Church of God in Jefferson County and is an active Tea Partier.
The Democratic candidate for lieutenant governor is from just up the road on I-65 in Cullman County. James Fields is also a pastor and served a term in the State House of Representatives before being swept out by the GOP tidal wave in 2010.
Attorney General Luther Strange has no Republican opposition. However, Montgomery State Representative Joe Hubbard, who will be the Democratic standard bearer, will challenge him in the fall. This could be the closest race in November.
Incumbent GOP Treasurer Young Boozer is unopposed in his race for a second four-year term in the primary. He will be challenged by longtime AEA lobbyist Joe Cottle in the general election.
Incumbent Republican Agriculture Commissioner John McMillan has no GOP primary opponent. His Democratic challenger is Doug "New Blue" Smith.
The best statewide races of the year are for the offices of Secretary of State, State Auditor and two of the Public Service Commission seats.
The best regional race of the year will be for the open congressional seat in the Birmingham metro area. The 6th congressional post is being vacated by 20-year veteran congressman Spencer Bachus. There are seven Republican men vying for the open seat. It has been ranked as one of the most Republican seats in the nation.
U.S. Senator Jeff Sessions will waltz to a fourth six-year term in the U.S. Senate. He has no opposition from any Republicans or Democrats.
Even if it is a lackluster year, it will be fun to watch. We will see if there are any upsets.
See you next week.
---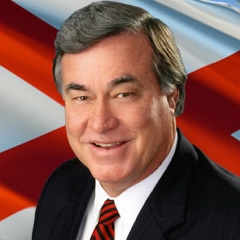 Alabama's premier columnist and commentator, Steve has analyzed Alabama politics for national television audiences on CBS, PBS, ABC and the British Broadcasting Network. Steve has been an up close participant and observer of the Alabama political scene for more than 50 years and is generally considered the ultimate authority on Alabama politics and Alabama political history.
All author posts