Usually gubernatorial years are marquee political events in Alabama politics. However, this year is shaping up as a mundane affair. Not only is Gov. Dr. Robert Bentley headed for a cakewalk coronation, so are all the other four incumbent constitutional officeholders. Lt. Gov. Kay Ivey, Attorney General Luther Strange, Agriculture Commissioner John McMillan and State Treasurer Young Boozer, all appear to have smooth sailing in their reelection bids.
It appears that the best statewide race will be for the lowprofile office of Secretary of State. When I was growing up it was a post held by women. Two legendary female politicians, Agnes Baggett and Mabel Amos, would serve two perfunctory fouryear terms in the Secretary of State office, and then they would swap. Ms. Amos would be treasurer for eight years and then move to Secretary of State. Ms. Baggett would move next door to the treasurer's office. They were political fixtures on Goat Hill for years.
Now come three men seeking the Secretary of State's office in 2014. All three gentlemen are qualified for the position and any of the three would do a good job. State Rep. John Merrill of Tuscaloosa has been running for over a year. He is finishing his first term in the Statehouse. He is the youngest of the three and probably sees Secretary of State as a steppingstone to higher office.
Reese McKinney is the former probate judge of Montgomery County. He is in his mid 60s and wellknown in the Montgomery river region.
Jim Perdue is currently serving as probate judge of Crenshaw County. He is in his early 60s and spent the early part of his career as a successful businessman.
It is hard to predict who will be the favorite in this race. It is very difficult to raise money in this contest because it is essentially an administrative job and it cannot do anything for anybody. Not many political action committees or lobbyists are interested in giving to campaigns for this office.
I am reminded of a story of bygone years when I think about the Secretary of State's race. Don Siegelman was making his initial statewide race in the 1970s. He was running for Secretary of State and won. Don was by all accounts a liberal, especially by Alabama standards. He was born running for governor. Every step he made since his birth in Mobile had been with an eye towards being governor of Alabama. He was similar to George Wallace in that regard. However, unlike Wallace, Siegelman had somewhat of a liberal/progressive philosophical leaning. Wallace had no philosophical tenets. He just wanted to run and win.
There were several political aspirants of that era with the progressive viewpoint. Siegelman and Bill Baxley come prominently to mind. They loved and really idolized Big Jim Folsom, Alabama's legendary populist governor of the 1940s and 50s. Big Jim was not only a classic populist and progressive, he was also pragmatic and believed in helping his friends and rewarding his supporters.
In his 1970s inaugural campaign for Secretary of State, Siegelman had been campaigning extensively in North Alabama and wound up late one night at a truck stop in Cullman off I-65. Big Jim would camp out at this truck stop drinking coffee. Siegelman spotted old Big Jim right off the bat. Siegelman was so excited. He had never met his legendary idol. He immediately went over to introduce himself. Big Jim welcomed Siegelman to his table and told this young idealistic politician to sit down and visit.
At that invitation Siegelman began to bubbly tell big Jim his story. He said, "Governor, I was president of the SGA at the University of Alabama, then went to Georgetown to law school. I studied at Oxford in England. Then I became head of the Democratic Party and now I'm finally running for statewide office in my early 30s."
Big Jim listened patiently to Siegelman's pitch he then paused and took a sip of coffee and looked pensively at Siegelman and said, "Boy, why are you telling me all that stuff? You want my advice or something?" Siegelman excitedly replied, "Yes, Governor. I would love your advice."  Big Jim continued, "Boy, what did you say your name was and what office are you running for?" Siegelman told him. Big Jim imparted this advice. He said, "Boy, first of all, I would change my last name to Smith. Second, I would tell folks that I went to Oxford high school, not England. Thirdly, and most importantly, don't you know you can't steal no money in that job?"
See you next week.
---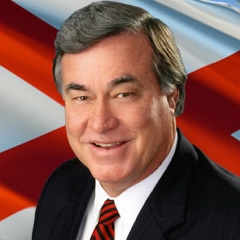 Alabama's premier columnist and commentator, Steve has analyzed Alabama politics for national television audiences on CBS, PBS, ABC and the British Broadcasting Network. Steve has been an up close participant and observer of the Alabama political scene for more than 50 years and is generally considered the ultimate authority on Alabama politics and Alabama political history.
All author posts