As the year 2013 comes to an end, as is our custom, we will reminisce and remember some of the great names of Alabama politics that have passed away this year.
Former Supreme Court Justice, John Tyson, passed away at 86 at his Montgomery home.  Tyson was a revered, Montgomerian and a real gentleman.  His best friend was Bubba Trotman of Montgomery. If I had to define the term Southern gentleman, Judge Tyson and Bubba Trotman epitomize this demeanor.
Former First Lady, Jamelle Folsom, passed away in Cullman.  Mrs. Jamelle was the only lady in Alabama history to be the wife of one governor and the mother of another governor.  She was the wife of the legendary Big Jim Folsom and the mother of Gov. Jim Folsom, Jr. Big Jim, who was a widower and a good bit older than Jamelle, was campaigning in North Alabama and making one of his legendary "suds bucket" speeches, when he looked out over the crowd and spotted Jamelle who was not even 20 years old.  In his uninhibited manner he stared at Jamelle and said that's the prettiest girl I've ever seen, I'm going to marry her, and he did.  She was a wonderful lady who loved Alabama politics.
Former State Senator Hinton Mitchem of Marshall County passed away at 74. He served in the Alabama Senate for more than 30 years, including time as the Senate Pro Tem.  Mitchem was a very effective and powerful legislator and successful businessman.  He owned a tractor dealership and had other real estate interests.
Another former North Alabama State Senator from a bygone era also owned a tractor dealership.  The legendary Fuller Kimbrell died in his beloved Fayette at the age of 103. He was a senate leader during the Big Jim Folsom era.  Kimbrell had an illustrious career in politics and business.  Besides being a longtime state senator he also served as state finance director.
Barbara Bobo, who was a newspaper publisher, Democratic Party leader, Mayor of Millport and avid Alabama football fan, passed away during the summer.  Barbara was the owner and publisher of the West Alabama Gazette and the Northport Gazette. She served as a newspaper editor for 37 years, Mayor of Millport for 20 years and a member of the city council for six years.
Rep. Demetrius Newton of Birmingham, who was the first African American Pro Tem of the Alabama House of Representatives, passed away at age 85.  Newton was first elected to the House in 1986 and was elected Pro Tem in 1998.  He served as Pro Tem until 2010 when Republicans took control of the legislature. Demetrius received his law degree from Boston University where he met and became friends with fellow student Dr. Martin Luther King, Jr.  Prior to his time in the legislature, Demetrius was a prominent civil rights attorney.
Oakley Melton, Jr. of Montgomery passed away in November at age 86. Oakley was instrumental in resurrecting the Alabama-Auburn football rivalry. The series was cancelled in 1907. It was resumed in 1948 and dubbed the "Iron Bowl."  Following the 1948 resurrection, Oakley attended 63 consecutive Iron Bowls, during which time he founded the Alabama-Auburn Perfect Attendance Club (AAPAC). Oakley began his career as the Clerk of the Alabama House of Representatives.  He also was the founder of the prestigious law firm, Melton, Espy and Williams, which bears his name.
While we are on the subject of Alabama football, legendary Alabama Athletic Director, Mal Moore passed away in March at age 73.  Mal Moore played and coached under Paul "Bear" Bryant. He spent 50 years in the Alabama athletic program as a player, coach, and administrator. Mal Moore sustained the Alabama football dynasty with the hiring of Nick Saban.  He was a true gentleman, who never forgot his small town roots in Crenshaw County, Alabama.
Although not related to Alabama politics, two national icons passed away this year.  Stan, "The Man" Musial, one of the greatest baseball players to ever live, died in January at the age of 92.  Musial played his entire 23-year career for the St. Louis Cardinals.  All the pictures of Musial show him smiling or laughing.  When asked why he always seemed happy, Musial is said to have replied, "If you had a .331 lifetime batting average, you would be happy all the time too."
Finally, America's most well known advice columnist, "Dear Abby", died in January at age 94.  Her real name was Pauline Phillips.  Many folks do not realize that she was the identical twin of Anne Landers.
Merry Christmas and Happy New Year.
See you next week.
---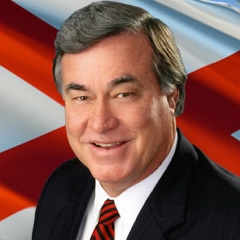 Alabama's premier columnist and commentator, Steve has analyzed Alabama politics for national television audiences on CBS, PBS, ABC and the British Broadcasting Network. Steve has been an up close participant and observer of the Alabama political scene for more than 50 years and is generally considered the ultimate authority on Alabama politics and Alabama political history.
All author posts