Five days before Christmas in 1976 a beautiful, bright Birmingham-Southern coed named Quenette Shehane was going to a convenience store near her home close to the campus in Birmingham. She was making a quick trip to get salad dressing to go with the steaks she and her boyfriend were cooking at his fraternity house. Quenette never made it back. She was kidnapped from the store parking lot. Her body was found the next day.
After several years of anguish and justice system logjams, Quenette's murderers were found and finally tried. One was executed nearly 14 years after the crime. Another was sentenced to life in prison and the third was also sentenced to life in prison but without the possibility of parole.
Even though this heinous crime received sensational publicity, without the determined efforts of Quenette's mother, the culprits would probably still be walking around free today. She made it her mission to get justice for her daughter's tragic horrible murder. She was relentless in her pursuit of justice. Today, thousands of Alabama families can and have received justice and peace of mind through the efforts of Quenette's mother.

That mother is Miriam Shehane. She is the founder of Alabama's renowned Victim's of Crime and Leniency, better known throughout the state as VOCAL.
Miriam was a bank employee in the small town of Clio in Barbour County when her daughter was murdered. Quenette had grown up in this peaceful village in southern Alabama.
Miriam Shehane faced continuous legal hurdles in her quest to bring Quenette's murderers to trial. Her frustration with the legal system caused her to become the greatest crusader for criminal justice in Alabama's history. She left her job at the bank and became a full-time activist and advocate for victim's rights.
Miriam founded VOCAL 30 years ago. Her tireless efforts have changed the criminal laws in our state. Her zeal stemmed from her desire to find justice for her experience as a mother of a slain daughter with a bright and promising future with her whole life ahead of her. She said, "I can't stand the thought of Quenette being forgotten. That is what has given me such drive."
She began VOCAL in 1982. That was my first year as a young 30-year-old legislator. I represented Clio in the House of Representatives. Clio was also the birthplace of George Wallace, who was beginning the last of his four terms as governor.
I am not sure why Mrs. Shehane chose me, whether it was because I represented Barbour County or the Governor had chosen me as one of his floor leaders, but she approached me and asked that I introduce and handle one of her first VOCAL initiatives.
At that time the criminal justice laws in Alabama allowed the criminal's families to be in the courtroom during a trial. However, amazingly the victim's family could not be in the courtroom. We set out to right this wrong.
It is difficult to pass any legislation. Even a resolution honoring apple pie and motherhood takes jumping through hoops. However, I spent my entire freshman year working with Mrs. Shehane to pass our bill rectifying this unfair situation. We were successful. We passed the Act allowing crime victims or their families to not only be in the courtroom but they are now allowed to sit at the prosecutor's table.
This is one of my proudest legislative accomplishments. As I write this column I am looking at a picture of me with Gov. Wallace signing this landmark Act into law. That picture of 30 years ago adorns my wall. I see it every day.
Mrs. Shehane has remained a close friend over the years. She is still director of VOCAL 30 years later. She is still fighting for victim's rights in Alabama every day.
In January, VOCAL moved into a new building. Fittingly it is named for Miriam's daughter, Quenette.
See you next week.
---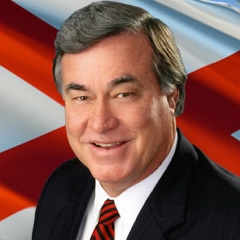 Alabama's premier columnist and commentator, Steve has analyzed Alabama politics for national television audiences on CBS, PBS, ABC and the British Broadcasting Network. Steve has been an up close participant and observer of the Alabama political scene for more than 50 years and is generally considered the ultimate authority on Alabama politics and Alabama political history.
All author posts