As the 2013 regular legislative session winds down, let us review some highlights.
One of the highlights was a lowlight. It did not happen on the floor of the House but late at night at a Mobile legislator's home while he was on his computer responding to emails. The email he responded to was a generic letter sent by a man in Jefferson County to all members of the legislature. It was not even intended specifically for Rep. Joseph Mitchell.

Eddie Maxwell, a white, retired, Jefferson County coal miner sent a benign innocent letter to all members of the legislature urging all 140 members not to pass any laws that would restrict gun ownership. Maxwell sent his mass email to all state legislators at 10:54 p.m. on January 27. Rep. Joseph Mitchell responded from his Alabama House email account at 11:59 p.m. and boy did he respond.
Rep. Mitchell, a black Mobile lawmaker since 1994, wrote, "You folk never used all this sheit to protect my folk from your slave-holding, murdering, adulterous, baby-raping, incestuous, snaggle-toothed, backward, inbred, imported, criminal-minded kin folk." Maxwell simply replied, "That's not the type of reply I expect from a state legislator." I guess not.
Mitchell's vitriolic email was not only egregiously outrageous, it was distasteful, repugnant and inflammatory. Maxwell was not a constituent of Mitchell's. His response should have been no response at all.
At first blush I wrote it off as Joe simply having a bad day or night. I know Joe and served with him in the legislature. There is no question that he is a proud African American man and one of the most liberal members of the legislature. Even though Joe and I were diametrically opposed on issues and on different sides of the philosophical tent, I liked him. We got along well.
I knew Joe was a liberal and outspoken but I never saw this racist and mean-spirited side of him. So when asked about it on television, I took up for Joe. I told the interviewer that he had been in declining health for the past several years and that late at night he may have either been in a lot of pain or feeling no pain, which could have made him a little delirious or uninhibited. However, Joe dispelled my alibi for him. He showed no remorse for his email. He later told the Associated Press that citizens who descended from slaves and were disenfranchised by the state constitution have a different view of history and the constitution than white folks.
The Alabama Democratic Party immediately sought to distance itself from Mitchell's inflammatory remarks stating, "As far as the Alabama Democratic Party is concerned, Rep. Mitchell stands alone in this matter and speaks only for himself."
This saga is simply an illustration of the tremendous divide and rancor that exists in Montgomery today. There is no doubt that partisan acrimony, which has been prevalent in Washington for the past decade, has now arrived on Goat Hill.
Speaking of the internet, the internet sensation of 2010, Dale Peterson, has again made the news recently. Peterson became a much watched internet video sensation when he ran third for Agriculture Commissioner three years ago. In the video he brandished a rifle and talked tough about criminals and thugs. In October of last year Peterson was arrested in a Hoover Wal-Mart for pushing his cart past cash registers without paying for several cases of beer. Following that arrest Peterson said he was in line to pay but had to go to the restroom. Being of a certain age, I can understand and sympathize with Peterson's excuse so I took up for him.
However, six months later in March he was caught eating cashews from a can while shopping at Sam's Club and not paying for them. Peterson was again arrested by the Hoover authorities. My belief that Mr. Peterson simply had a prostate problem may be generous. He may have a petty kleptomania problem.
See you next week.
---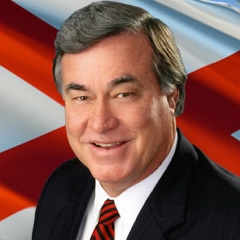 Alabama's premier columnist and commentator, Steve has analyzed Alabama politics for national television audiences on CBS, PBS, ABC and the British Broadcasting Network. Steve has been an up close participant and observer of the Alabama political scene for more than 50 years and is generally considered the ultimate authority on Alabama politics and Alabama political history.
All author posts