The continuous merry-go-round opening and closing of Macon County's VictoryLand is like a circus. It is a comedic side show of political posturing. It plays out in a scenario reminiscent of Abbott and Costello's Vaudeville classic, "Who's on First."
It appears humorous and ludicrous but it is actually sad because people's lives are being affected. This political chicanery is adversely affecting the lives and livelihoods of folks who want to work and live in one of Alabama's poorest counties.

Over a decade ago these folks voted overwhelmingly for a constitutional amendment that allowed them to have electronic bingo. The constitutional measure was not vague or ambiguous. It is clear as a bell. They constitutionally have the right to have gambling in their county.
It should be noted for those who are confused by all of the theatrics involved, that no court has yet ruled on their sanctity and right to have gambling in Macon County. The people of Macon County went at it the right way. Their constitutional provision was clearly passed by the legislature and then voted on and approved by the people.
Then, three years ago, here comes Bingo Bob Riley riding his white horse out to VictoryLand along with almost every trooper in the state to close the facility down. Never mind that VictoryLand had been open the entire eight years of Riley's term without any disruption. I am not saying he had any ulterior or self-serving motives in his last actions as governor. However, it is clearly documented that Riley received over $400,000 from the Indian casinos for his 2002 gubernatorial campaign. In that campaign Riley won by less than 1% of the vote. It could be that the Indians were calling in their chips. I am not saying, but it looks like that might be a good bet as to what happened.
Indeed the closing of VictoryLand created quite a bonanza for the Alabama Creek Indian casinos. For the fourth year in a row they have experienced record setting growth. According to the Indian Gaming Industry Report released two weeks ago by Casino City Press, revenue for Alabama's Indian casinos grew by over 26% in 2011. The report says Alabama leads the nation in revenue growth for Indian gambling. All of this is a direct result of the continuous havoc being played on the private constitutionally granted casinos by Bob Riley and now Luther Strange.
You can draw your own conclusions as to Riley's clean hands. In order to accomplish his mission he had to sidestep the Alabama Constitution and usurp the authority of Attorney General Troy King. King stated that he thought VictoryLand was operating legally under a constitutional amendment.
Now comes current Attorney General Luther Strange, who says he is now in charge. Well again, "who's on first" and who is in charge? They keep moving the goalposts and changing the rules in the middle of the game. Is the governor in charge or is the attorney general in charge? Who orders the dispatch of hundreds of troopers from their assigned posts to attack the feared fortress of VictoryLand as though Al Capone or Bonnie and Clyde are hold up there and are eminent threats to the lives of all Alabamians.
It is even more confusing to the average Alabamian when one day the Alabama Alcohol Beverage Control Board issues a liquor license to VictoryLand and declares that their machines are legal, then the next day Big Luther raids the place and declares the machines illegal.
In fact, the entire Alabama Court of Criminal Appeals has agreed with the ABC Board that the machines are legal. The presiding Circuit Judge in the proper venue, Tom Young, has declared the machines legal. The high sheriff of Macon County, who is charged with deciding what is legal, has declared the machines legal. It looks like the only one who thinks the machines are illegal is Big Luther. Maybe it is for political reasons?
It is definitely illegal to bet on a football game in Alabama. It would seem more logical to spend the state's money clamping down on bookies in Birmingham than folks playing bingo in Macon County.
Maybe it is time for Gov. Bentley to assert himself on this issue. Most folks would like the opportunity to vote on this type of gambling as well as a lottery and clarify the issue once and for all.
See you next week.
---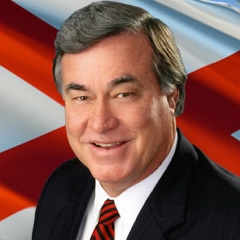 Alabama's premier columnist and commentator, Steve has analyzed Alabama politics for national television audiences on CBS, PBS, ABC and the British Broadcasting Network. Steve has been an up close participant and observer of the Alabama political scene for more than 50 years and is generally considered the ultimate authority on Alabama politics and Alabama political history.
All author posts