As we begin the New Year, let us take one last look back at the 2012 presidential year in Alabama politics.
Our forefathers must have been clairvoyant to perceive that we in the Heart of Dixie would be more interested in state and local politics than presidential contests. Unlike many states, who elect most of their officials in presidential years, we in Alabama are just the opposite. There were very few state races on the ballot in 2012. Only five seats on the Alabama Supreme Court were up for election and only one of those was contested.

The next big year for Alabamians is next year. It is our gubernatorial year. In addition to electing our governor, all of our constitutional executive offices are on the ballot, including lieutenant governor, attorney general, state treasurer, state auditor, secretary of state and agriculture commissioner. In addition, our entire legislative branch of government will be up for election. All 140 House and Senate seats will be on the menu. We will also have a few of our judges on the ballot. Finally, all 67 sheriffs in Alabama will be up for election. Indeed, 2014 will be a big year in Alabama politics.
2012 saw the end of the Democratic Party in statewide politics. There are no Democratic statewide officeholders in Alabama. All of our seven constitutional executive branch offices are filled with Republicans. Both of our U.S. Senators are Republicans and the GOP holds six of our seven U.S. House seats. The GOP also owns all 19 seats on our Supreme and Appellate Courts, as well as all three seats on the Public Service Commission. In the legislature, the Republicans hold more than three-fifths of the seats.
Alabama Democrats can console themselves with one advantage. They still hold a majority of the elected officials in county courthouses statewide. However, the Republicans made inroads at the local level in 2012. The number of Republican probate judges increased from 20 to 32 and the number of Republican circuit clerks rose from 17 to 29.
Democrats remained successful in urban counties with significant African American populations. In Montgomery County, Steven Reed, the son of legendary civil rights and Democratic chieftain Joe Reed, defeated longtime Republican Probate Judge Reese McKinney. This more than likely indicates that to be elected to a county office or judgeship in Montgomery County in the future one would need to run as a Democrat.
This same truth would be evident in Jefferson County. Democrats swept all Republican judges out of office in imperial Jefferson. Almost eight out of ten registered voters showed up to vote in Jefferson County. Of the approximately 175,0000 who turned out to vote, six out of ten of the votes cast in our most urban county were straight ticket. They simply pulled either the Democratic or Republican lever. Qualifications of judges did not matter. No amount of advertising or campaigning mattered. All that mattered was the Democratic or Republican label by each candidate's name. Obviously there are more Democrats than Republicans in Jefferson County. The bottom line in 2012 in Jefferson County is that all 11 judgeships up for election went to Democrats.
One of the most interesting races occurred in Tuscaloosa County. It may be an anomaly but voters in Tuscaloosa actually split their ticket and reelected a longtime popular Probate Judge Hardy McCollum. Even with a well known Republican sheriff as his opponent and the albatross of Barack Obama tied around his neck, McCollum won reelection handily.
The GOP is king and in dominant control of state politics in Alabama. However, this is obviously not the case nationwide. We in Alabama are much more conservative than the rest of the folks around the country. Nationwide, Barack Obama won a clear victory whereas in Alabama he drove the final nail in the coffin of the Democratic Party.
Republicans face a quandary in national politics. It looks as though they will need to expand their base to include Hispanic voters. The most significant and heart wrenching disappointment among Alabama's conservative and Christian majority will be in the power of President Barack Obama to appoint any openings on the U.S. Supreme Court. Obama will have free reign to appoint extreme liberals to the Supreme Court. The U.S. Senate confirms these appointments and that tribunal remains in Democratic control.
In the meantime, 2014 is just around the corner in Alabama politics.
See you next week.
---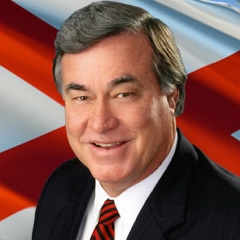 Alabama's premier columnist and commentator, Steve has analyzed Alabama politics for national television audiences on CBS, PBS, ABC and the British Broadcasting Network. Steve has been an up close participant and observer of the Alabama political scene for more than 50 years and is generally considered the ultimate authority on Alabama politics and Alabama political history.
All author posts