The 2012 Presidential Election year is now history and nothing has changed. There is absolute status quo in Washington. You have the same president, the same Democratic majority in the Senate and the same Republican majority in the U.S. House of Representatives. That, my fellow Alabamians, is a recipe for continued gridlock.
Our federal government has to find a way to get along and end deficit spending. We have to come to grips with our spending more money than we bring in or we will continue to exacerbate our vulnerability and decline as a nation.

What about here in Alabama? We have a constitutional provision that prohibits deficit spending. We must live within our means no mater how difficult tightening our belt may be. We also have a Republican governor and a super majority and super conservative legislature that warm to the task of slicing government spending.
Speaking of a super Republican legislative majority, we are now a totally Republican state from top to bottom in every branch of our government. With the defeat of Lucy Baxley in the PSC presidency race, there is not a single Democratic statewide officeholder in the Heart of Dixie.
When it comes to presidential politics, we became a Republican state in 1964. We are now one of the most reliably GOP states in the nation. Alabama and our sister southern states are the heart and soul of the Republican Party.
With Mitt Romney's victory in Alabama last Tuesday, the GOP standard-bearer has carried our state the last nine straight presidential races going back 36 years to 1976, usually by more than a 20% margin of victory. However, Romney's 61% to 38% shellacking of Obama was by a lower percentage than McCain's win in the state four years ago.
All seven of our constitutional offices of governor, lieutenant governor, attorney general, secretary of state, treasurer, agriculture commissioner and state auditor are held by Republicans. Our three member Public Service Commission is now all Republican following last Tuesdays Twinkle Cavanaugh victory over Lucy Baxley. Our state judiciary is completely Republican. Our State Supreme Court is made up of nine jurists and all nine are Republican. Our civil and criminal appellate courts have ten judges and all ten of these appeals judges are Republican. That makes our judicial branch 19 out of 19 GOP.
The Democrats made one valiant final attempt to penetrate the impregnable hold that the GOP has on Alabama's high court. They orchestrated a plan to remove a weak candidate and field a very qualified Jefferson County Circuit Judge to take on Ten Commandments Judge Roy Moore. They perceived Moore to be vulnerable in the Chief Justice race. They ran Judge Bob Vance and supplied him with plenty of money. Their efforts fell short. Moore defeated Vance by a 52 to 48 margin and probably put to rest any hopes and efforts of a Democrat winning a seat on the State Supreme Court for the foreseeable future.
Our congressional delegation will return to the Potomac intact. All seven of our members of congress were reelected last Tuesday. We have six Republicans and one Democrat in our delegation. The Republicans are Jo Bonner, Martha Roby, Mike Rogers, Robert Aderholt, Mo Brooks and Spencer Bachus. Our lone Democrat is Terri Sewell.
Neither of our two U.S. Senators was up for election this year. Jeff Sessions runs again in 2014. Our Senior Senator Richard Shelby is not up for election again until 2016. Shelby was hoping that the Republicans would take control of the Senate. He raised money for GOP Senate races throughout the country. His efforts were not productive. Instead of gaining seats in the U.S. Senate, the GOP lost ground. The Democrats picked up seats and added to their majority in the U.S. Senate.
See you next week.
---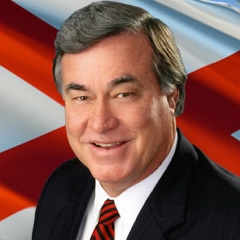 Alabama's premier columnist and commentator, Steve has analyzed Alabama politics for national television audiences on CBS, PBS, ABC and the British Broadcasting Network. Steve has been an up close participant and observer of the Alabama political scene for more than 50 years and is generally considered the ultimate authority on Alabama politics and Alabama political history.
All author posts