Writers and historians have done extensive research over the years seeking to ascertain how our
nation's leaders reached their pinnacle of power. These exhaustive studies have delved into the
personas from every angle imaginable. Most of these analyses begin with someone's childhood.

Being a student of Alabama politics allow me to share with you my study of the backgrounds of
our governors. My assessment is that in the past six decades small town boys succeed. It may
be because Alabama was made up of small towns in the past generations that almost all of our
governors have hailed from small towns. My assumption is that growing up in a small town
allows someone to develop confidence and leadership abilities that give them an advantage.
For example, a person from a small place who has leadership talents can develop them better
than someone from a large place. It is much easier in a small town to be class president, captain
of the football team and basically be the big fish in a small pond. That small town person grows
up expecting to be the leader. They expect to be governor or president.
Regardless of the reason, my observation and research clearly reveals that small town boys have
dominated Alabama politics and the governor's office. A look at the past 66 years tells the story.
In 1946, a 6'9" giant named Big Jim Folsom came storming out of the hills of north Alabama to
break the Big Mules and Big Planters stranglehold on the governor's office. Big Jim grew up in
Elba and lived most of his adult life in Cullman.
In 1950, Gordon Persons won the Governor's office. He was from Montgomery. Let us call
Montgomery a city and give the city boys one governor. Big Jim came back to win a second term
in 1954. That is two for the country and one for the city.
The small town boys had a clear run for the next 40 years. In 1958, John Patterson became
governor. Patterson's home was Phenix City but he was born in a Tallapoosa County crossroads.
Then the Fightin' Little Judge from Barbour County won his first term as governor in 1962.
George Wallace was from the small Barbour County hamlet of Clio. His wife, Lurleen, followed
him as governor in 1966. She was born and raised in the Tuscaloosa County town of Northport.
Upon Lurleen's death from cancer in 1968, Albert Brewer became governor. Brewer was from
the middle-size town of Decatur but still no metropolis. Wallace defeated Brewer in 1970 in a
monumental battle for his second term. Wallace won a third term in 1974.
In 1978, Fob James won a major upset victory. James was from the small east Alabama valley
mill town of Lanett. Wallace won his fourth and final term in 1982. He was followed in 1986
by Alabama's first Republican governor, Guy Hunt. Hunt was from the village of Holly Pond in
Cullman County. His successor, Jim Folsom, Jr., is also from Cullman County.
In the 1994 governor's race, Folsom lost a narrow race to Fob James, who was running as a
Republican this time. Fob was then defeated by a city governor in 1998. Don Siegelman was
born and raised in Mobile. Siegelman lost a very close race to Bob Riley in 2002. Riley won a
second term in 2006. Riley is from the small Clay County town of Ashland.
Our current governor, Robert Bentley, practiced medicine most of his adult life in the midsize
city of Tuscaloosa. However, he is a small town boy having grown up in Columbiana in Shelby
County.
There you have it my friends. If you were keeping count during the past 66 years that is 14 to 2
small town governors over city born governors.
This small town dominance does not end with Alabama governors. A cursory look at the
presidents over the past 66 years reveals that if you include in the count those who were elected
two times, the count is small town boys 15 and city boys 1.
See you next week.
---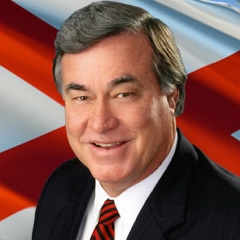 Alabama's premier columnist and commentator, Steve has analyzed Alabama politics for national television audiences on CBS, PBS, ABC and the British Broadcasting Network. Steve has been an up close participant and observer of the Alabama political scene for more than 50 years and is generally considered the ultimate authority on Alabama politics and Alabama political history.
All author posts