Recently a good friend and reader asked me about one of Alabama's most interesting governor's
races. The 1978 gubernatorial contest was truly one of the best. My friend was curious as to
where all the players on the 1978 stage are today.
The 1978 race was a classic upset contest. In fact, it may very well be one of the most epic and
stunning surprise outcomes in the annals of Alabama political history.

It was assumed that the iconic career of the legendary George Wallace was coming to an end as
he was leaving the governor's office that he had owned for close to two decades. He would prove
the pundits wrong four years later when he came back for one last hurrah in 1982.
In the meantime, three thoroughbreds had been waiting in the wings for their turn to capture the
brass ring of Alabama politics, the governor's chair. The press labeled the '78 race a clash of
three titans and referred to them as the Three B's. Albert Brewer, Bill Baxley and Jere Beasley
were set to do battle to be the first to lead Alabama in the post Wallace era.
Albert Brewer had been the only occupant of the governor's office not named Wallace in 16
years. He was only governor for 18 months from 1969-1970 and only became governor because
he was lieutenant governor when Lurleen Wallace died in 1969. Brewer was a progressive
compared to Wallace. He took the reigns of government and did an excellent job during his short
stint. Brewer and Wallace did battle in 1970 in one of the most pivotal, legendary and nastiest
races in Alabama political history. Brewer led Wallace in the first primary only to lose in the
runoff when Wallace played the race card to the fullest extent ever seen in history. Brewer had
waited in the wings for eight years and was ready for his day in the sun.
Bill Baxley had been elected attorney general in 1970, won reelection in 1974 and had been
campaigning for governor for eight years.
Jere Beasley had the identical training program. He had been elected lieutenant governor in
1970, won a narrow reelection in 1974 and had been campaigning for governor for eight years.
Fob James was unknown. He had made a fortune building a barbell manufacturing business
in Opelika. He sold out for millions and decided he wanted to buy the governor's office rather
than play golf. He hired the south's premier political genius at the time, DeLoss Walker, out of
Memphis. Fob gave Walker an open checkbook. The rest is history. Fob beat the Three B's.
Baxley made the runoff against Fob. However, his second place showing was distant to Fob's
first place. Brewer finished third. Surprisingly, another successful businessman named Sid
McDonald ran fourth. McDonald had served as a state senator and also became wealthy by
owning telephone companies in Arab and Sand Mountain. Jere Beasley finished fifth.
So where are they now? All five are doing well. In fact, all five have been extremely successful
and most would tell you they are a lot better off personally and financially than if they had
remained in politics.
Beasley is probably the one who could most safely say that his loss that year was the best thing
that ever happened to him. He has gone on to become the State's, and one of the Nation's, most
prominent and successful plaintiff lawyers. He continues to practice in Montgomery. He has
become very wealthy, has good health, and enjoys his life with Sarah, his wife of 50 years.
Sid McDonald has retired from his business interests and enjoys traveling with his wife.
Governor Brewer was a brilliant lawyer as well as a very good man. He practiced law
successfully then joined the faculty at Samford University in 1987 where he teaches law at
Cumberland. He is also the founder of the Public Affairs Research Council of Alabama. He
looks fit and happy.
Bill Baxley was always a good lawyer even as a young attorney general. He practices law in
Birmingham and is considered one of the top lawyers in the state.
Fob won the governor's race again in 1994. He is the only man in state history to win the
governor's seat as a Democrat and as a Republican. He is enjoying his retirement years mostly in
Orange Beach.
All five men are in their 70's and are doing well and enjoying their lives.
See you next week.
---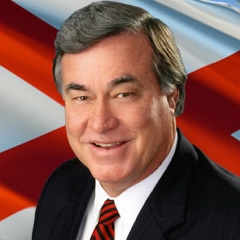 Alabama's premier columnist and commentator, Steve has analyzed Alabama politics for national television audiences on CBS, PBS, ABC and the British Broadcasting Network. Steve has been an up close participant and observer of the Alabama political scene for more than 50 years and is generally considered the ultimate authority on Alabama politics and Alabama political history.
All author posts