Ever since Roy Moore's surprising victory in the March Republican primary a hue and cry has arisen from some mostly upscale GOP and Independent Alabamians to derail his return to his old position as Chief Justice of the Alabama Supreme Court. The rumors and plans abound from all areas of the state. They are more prominent in coffee club conversations, country club cocktail parties and suburban watering holes. The people are frustrated and convinced that Moore's resurrection is an embarrassment to the state.

The bottom line is that Moore will be elected to his prior post as Chief Justice in November. Winning the GOP primary nomination is tantamount to election in Alabama, especially in a year when Barack Obama is heading the ticket and the contest is for a judicial job. Alabamians decided about two decades ago that they want only Republicans on their state courts. The current count is 19 Republicans and zero Democrats on the state appellate courts of Alabama. The numbers will remain the same when the dust settles on the night of November 6th.
Those who bemoan the fact that Moore will return to head our state court system need only face the facts. We are a very religious and conservative state. We are not California. If you want liberal judges move to California. Likewise, under our antiquated Electoral College system of selecting our president, if you want your vote to count for president move your voting to Florida.
The plans to thwart Moore's ascension to the high tribunal range from a write-in campaign to replacing the current Democratic nominee with a more qualified and electable candidate. That will not happen. The Democratic nominee is Harry Lyon. He likes his fun in the sun. This is his 11th Don Quixote foray into state politics. He enjoys being the brunt of jokes and ridicule. He will not quit and he also will not campaign.
The idea of a write-in campaign winning or even having any affect on the outcome of this race is futile and ludicrous. Several potential write-ins are out there quacking around. Indeed, if you are looking for quackers, Donald Duck will probably receive more votes than these other potential write-in candidates. Donald Duck and Mickey Mouse always get write-in votes, even for president.
My guess is that in the presidential race in Alabama Romney will get 63% to Obama's 37%. In the Chief Justice race Roy Moore will be elected in November. Secondly, there will be very little difference, if any, in the philosophy of the Alabama Supreme Court by Moore being Chief Justice as opposed to either of his GOP opponents serving this six-year term. The fact is that Moore has repeatedly said that he will not mimic his old policy of placing his Ten Commandments monument in the Judicial Building. He will probably quietly serve his six-year term and ride off into the sunset. He cannot run for a second term because you are prohibited from running for a judgeship in Alabama at age 70. Moore is 65 years old.
Finally, on a positive note, the price tag on our Supreme Court races will be reduced dramatically. We will more than likely move from the most expensive to one of the least costly contests in the country. The demise of the Democratic Party as a player in state judicial contests has caused the plaintiff trial lawyers to abandon the ship. They no longer play in the Supreme Court game. It is not feasible given the odds. In addition, Moore's position of not accepting special interest contributions curtails the business groups in the state from participating.
At the end of the day, Roy Moore will be Chief Justice of Alabama come January 2013.
See you next week.
---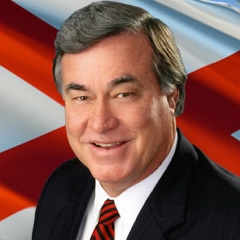 Alabama's premier columnist and commentator, Steve has analyzed Alabama politics for national television audiences on CBS, PBS, ABC and the British Broadcasting Network. Steve has been an up close participant and observer of the Alabama political scene for more than 50 years and is generally considered the ultimate authority on Alabama politics and Alabama political history.
All author posts