Barbour County is known as the Home of Alabama Governors. It claims six former governors. Indeed, this is the most of any other Alabama county.
The best source on the history of our governors is a book by Samuel "Skeeter" Webb and Margaret Armbrester entitled "Alabama Governors." The authors give a brief biographical sketch of every Alabama governor beginning with our first governor, William Wyatt Bibb.

For the first 75 years it is difficult to determine which county some of our governors were from. With Alabama being a new state and actually even an undeveloped territory, all of the men elected as governor for the first 50 years were born in another state. Many were from Virginia or Georgia and most were from wealthy planter backgrounds. Many previously held political positions in their native states.
Furthermore, after they came to Alabama they tended to move around. They might start a law practice in Huntsville, then move to the Black Belt to start a plantation. So when determining where their home was do you look at where they were born and grew up, where they lived during their adult working years or where they died. If you follow southern etiquette and say that where someone is born is their home you put a completely different slant on where home was for many of our former governors. Close to one third of them called some county outside of Alabama their home county. Two of our Reconstruction governors were not only born in New York, they were residents of New York while they were Governor of Alabama.
Let us take for example the six governors claimed by Barbour County because there could be a dispute as to whether several were actually from Barbour County. Barbour's first governor was John Gill Shorter. He was elected Governor of Alabama in 1861 just as the Civil War broke out. Shorter was born in Monticello, Georgia. His family moved to Barbour County in the early 1830's and became one of Eufaula's wealthiest families. The Shorter mansion remains one of the highlights of the annual Eufaula historical tour of antebellum mansions. John Gill Shorter was a prominent lawyer as well as governor.
The second Barbour governor was William Jelks. He, like Shorter, was not born in Barbour County. He was born in neighboring Macon County in 1855. His father was a confederate captain who died in the Civil War as a hero. After his mother was widowed with four children, she married a confederate major from Union Springs. So young Jelks was born in Macon County but grew up in Union Springs in Bullock County. He grew up to be a newspaper man and owned the Union Springs Herald. He only later bought the Eufaula Tribune and moved to Eufaula after he made the Eufaula Daily Times the dominant paper in south Alabama. Jelks was influential with his writing. He was elected Governor of Alabama in 1900 and served through 1907. He was a prominent Barbour County governor.
Barbour's third governor was also a conservative Bourbon Era governor. Braxton Bragg Comer may have been one of the most successful men in Alabama during the 20th century. Comer was indeed born in Barbour County, unlike the two previous men, but left Barbour County as a young man never to return.
Comer, who was governor from 1907-1911, was one of the most brilliant businessmen in Alabama history. Comer made a fortune as the largest owner of textile mills in Alabama and perhaps the south. He lived near his mills in Calhoun County but also had a home in Birmingham where he owned banks and other businesses. After serving as governor, Comer lived out the remainder of his life in Birmingham and died in the Magic City in 1927.
We will continue this discussion of Alabama governors and their "home counties" next week, which will of course include Barbour County's and Alabama's most prominent governor, George Corley Wallace.
See you next week.
---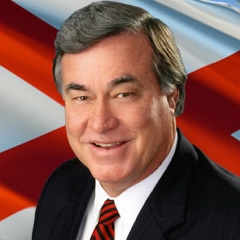 Alabama's premier columnist and commentator, Steve has analyzed Alabama politics for national television audiences on CBS, PBS, ABC and the British Broadcasting Network. Steve has been an up close participant and observer of the Alabama political scene for more than 50 years and is generally considered the ultimate authority on Alabama politics and Alabama political history.
All author posts