The Electoral College process of selecting a president rather than electing our nation's chief executive diminishes Alabama's importance in next November's general election. Alabamians will vote for the Republican nominee whoever they are in the fall of 2012.
Even though our proclivity for voting Republican for president renders us irrelevant in the general election, we will be able to put our two cents worth into who that person will be on March 13 in our Republican presidential primary.

The early jockeying for position in the GOP presidential contest has been topsy turvy and unpredictable to say the least. The current frontrunner is the most unlikely candidate to be leading the field. At the present time the GOP faithful are flocking to Herman Cain. The surprising aspect of this infatuation is that the typical Republican is a white conservative.
Herman Cain is a true Horatio Alger success story. He grew up in the segregated south. He was born in Memphis and raised in Atlanta, where he now resides. His father was a driver for Coca Cola's top executive and his mother was a cleaning lady. Cain graduated from Atlanta's Morehouse College and completed his master's at Purdue. He became an executive with Pillsbury Company and turned around a group of 400 struggling Burger Kings. In 1986 he became the Chief Executive of Godfather's Pizza chain. Cain once again turned around an unprofitable company. He then orchestrated a leveraged buyout of the company, stayed on as CEO and made millions before stepping down in 1996.
Unlike our current president, Barack Obama, who has never worked at any job in the private sector, Cain is an American business success story. He can legitimately criticize Obama's lack of experience and ability to lead a capitalistic nation. Cain simply says, "This president does not understand a fundamental economic principle, which is that the business sector is the engine of economic growth."
Cain is 65 and survived a severe bout with colon cancer in 2006. He touts a bold tax reform plan he refers to as a 9-9-9 program, which would replace the tax code with a 9% flat tax on business and personal income, coupled with a 9% national sales tax. Some of Cain's opponents criticize his plan as gimmicky and unworkable but it appears to resonate with conservative activists.
Cain's status as the current frontrunner in GOP national polling may seem surprising to some. However, even more astonishing is that he is winning straw polls all over Alabama with likely GOP primary stalwarts. He has followed up his straw poll victories in the Heart of Dixie with campaign appearances in Montgomery, Anniston, Talladega, Homewood and Birmingham in recent weeks. He may be a flash in the pan similar to other conservative stars like Michelle Bachman who burn out within weeks. However, at this point in the Republican campaign, Cain is the frontrunner.
This race is way too early to call. It fluctuates monthly. This time three months ago Texas Governor Rick Perry appeared to be unbeatable. However, he faltered out of the gate and has dropped dramatically in the past month. His star has risen and may have set.
Republicans clearly want very badly to beat Barack Obama. They just cannot resolve who they want their horse to be at this time. The script called for the GOP loyalists to lineup with one of two governors, Rick Perry or Mitt Romney, but they clearly like someone who is bold and not a politician. Perry and Romney do not fit that mold.
At the end of the day the one horse that appears constant is Mitt Romney. Throughout all the ups and downs and stars rising and setting, Romney remains in either the lead or close to the lead. He also has plenty of money and organization. In addition, he appears to be the best candidate to beat Obama. In head to head polls Romney does the best against Obama. He appeals to the all important independent swing voter more than any of the other GOP contenders.
Once again, remember this is not a one on one national race where the person who receives the most votes wins. We are dictated by an Electoral College system where the race is determined by which states the candidates win. Also, the states that have early GOP primaries and caucuses have an inordinate unfair advantage in the selection of the nominee. Then again, the candidate with the most money and best organization who can stay the course can overcome these early obstacles. Romney may not carry Iowa or South Carolina, but he will win the moderate state of New Hampshire. It will be interesting to see who carries Alabama on March 13.
See you next week.
---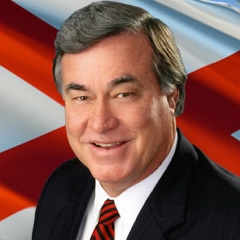 Alabama's premier columnist and commentator, Steve has analyzed Alabama politics for national television audiences on CBS, PBS, ABC and the British Broadcasting Network. Steve has been an up close participant and observer of the Alabama political scene for more than 50 years and is generally considered the ultimate authority on Alabama politics and Alabama political history.
All author posts