The 2011 Legislative Session has been in the books over four months and the 2012 Session begins in just under four months. The dust has now settled on this year's session and the results have been allowed to permeate. The conclusion has to be that it might have been one of the most remarkably productive legislative sessions in state history.
The new Republican majority legislature has definitely put their mark on Alabama state government. When they ran last year they promised a political platform entitled a "Handshake with Alabama." It was a conservative agenda. They were not just whistling Dixie. They delivered on all their promises.

This rock solid conservative group came to Montgomery with an eye toward putting their conservative stamp on public policy and they went to work. They approached their jobs with almost a military like demeanor. They attacked each issue head on without any deviation or much discussion. They planned their strategy in their caucus meetings and then went out and performed with strict party obedience. They voted lockstep like a well trained army and basically ran over the Democrats with impunity and disregard. The senate invoked a record breaking 42 cloture petitions on their way to passing their agenda.
The only comparison that can be drawn to this body's legislative productivity could be during the 1960's Wallace era. There was a period during the height of Wallace's popularity that he simply ran the legislative branch of state government as though it was an appendage of the executive branch. However, this group's success at achieving their goals supersedes that era.
Historically, the legislature will have one or two substantive and meaningful big ticket issues on their plate for a regular session. Those issues would generally be massaged, debated and prolonged during the entire three month session and finally disposed of one way or the other during the final week. This new GOP group addressed and passed at least 12 significant issues.
They began by addressing how tax dollars are budgeted and spent. In order to avoid the ravages of proration one of the first acts they passed was implementing a novel approach to the spending of education dollars. This "rolling reserve" approach to budgeting will use several years of actual revenues to determine projected revenues for the education budget.
They killed the popular but lucrative and expensive Deferred Retirement Option Program. Many high income state and education employees have taken advantage of this program.
Another sacred cow that Democrats would never dream of touching was teacher tenure. The GOP tweaked and streamlined the tenure law over the hue and cry of the once vaunted AEA.
The final nail in AEA's coffin was the increase in the amount that educators will have to pay into their retirement system. The 2.5% increase will cost the average teacher approximately $1,200 to $1,500 per year.
The session could very well be called the anti-AEA session. These four initiatives drove a stake in the heart of the AEA. Paul Hubbert had been King of Goat Hill for nearly three decades but the GOP completely dethroned and decapitated King Hubbert. In recent days, Hubbert has announced his plans to retire.
A poignant and very illustrative scene developed for me as I walked out of the senate on the final day of the session. I met Bradley Byrne and asked him whether he thought any of this legislation would have passed in a Democratic majority. He said, "Steve, not only would it not have passed, none of it would have ever gotten out of committee." Just as he said that I looked to my right and seated on a bench with two of his top aides was Byrne's nemesis, Dr. Paul Hubbert. King Hubbert appeared tired and dejected with a whimsical reflective persona. Fittingly he had Band-Aids all over his face. The bandages were from skin work but they looked more like scars of battle.
The Republican leadership also showed a resolve to save money by addressing and passing a congressional redistricting plan during the regular session rather than in a special session. Another cost saving measure will combine next year's regular state primary and presidential primary into one primary, which will be held in March. The state will save $5 million on these two accomplishments.
On next November's ballot the GOP legislature has placed initiatives for you to approve or disapprove. You will vote on whether to opt Alabama out of Obama Care, make union votes private, extend the popular Forever Wild program and remove racist language from the state constitution.
The 2011 Regular Session of the legislature was one to write home about. The big question is what will they do for an encore in 2012.
See you next week.
---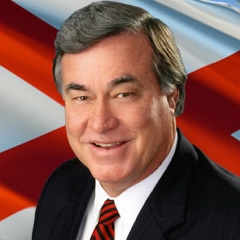 Alabama's premier columnist and commentator, Steve has analyzed Alabama politics for national television audiences on CBS, PBS, ABC and the British Broadcasting Network. Steve has been an up close participant and observer of the Alabama political scene for more than 50 years and is generally considered the ultimate authority on Alabama politics and Alabama political history.
All author posts