The much publicized sensational gambling trial which ended in August will be played out again in January. The first trial ended with the jury finding two defendants innocent and a mistrial being declared for the other seven when the jury could not reach a unanimous verdict.
The jury acquitted two of the original defendants, State Senator Quinton Ross and lobbyist Bob Geddie. The other defendants are former state senators, Larry Means of Attala and Jim Preuitt of Talladega, lobbyist Tom Coker, former Country Crossings spokesman Jay Walker from Georgia, VictoryLand owner Milton McGregor, State Senator Harri Ann Smith from Slocomb and legislative analyst Ray Crosby.

The seven remaining defendants are accused of participating in a scheme in which casino owners and their lobbyists purportedly bribed state lawmakers to support legislation that if passed by voters would have allowed VictoryLand, Country Crossings and other casinos to stay open and compete with the federally regulated Indian casinos in the state.
During testimony from an FBI agent evidence came to light indicating that this entire investigation was very likely instigated and orchestrated for political purposes. Therefore, any political consequences of this current scenario have already been accomplished. The revelation that an investigation was ongoing occurred on the eve of a House vote which affected the outcome of that vote. This trial is an after effect and the results will have no repercussions or effect on current or future Alabama political races.
The clear winners are the Indian gambling facilities. The seven remaining defendants are the losers. Regardless of whether they are ultimately exonerated, which looks like will probably be the case, their legal defense costs are staggering and most if not all are ruined financially from the costs of defending themselves. Most of the defendants are older and nearing retirement age. Their entire retirement and life savings have been depleted.
They did not scrimp on their legal fees. They have been defended by a plethora of the best lawyers in the state. The disparity of talent between the defense lawyers and the young inexperienced prosecution team flown in from Washington was stark. The proof is in the pudding. Look at the results. The jury returned not guilty verdicts on 91 charges and could not reach a unanimous decision on 33 charges. That score is 124 for the defense and zero for the prosecution. That is what you call a legal slaughter.
The fact that these federal prosecutors want to retry the case is amazing, if not ludicrous. It is difficult to imagine any different result. During the 10 week trial, which began on June 6 and lasted most of the summer, the prosecution took their best shot. They called all their witnesses, shared all their tapes and offered no real evidence of any bribes. The defense team was so confident that there was no credence to the prosecution's case that they rested without calling their defense witnesses. To give you a football analogy, it would be like a team that just got beat 124 to 0 and used their best plays and players asking for a rematch with their conquerors who slaughtered them without using their best plays or players.
Protocol in the Middle District Federal Court in Montgomery calls for the venire list of jurors to be made up of people primarily from the Montgomery River Region. It would be difficult to perceive any different result from a second Montgomery jury especially considering the publicity given to the trial by the Montgomery media.
In an interview granted by one of the 11 female jurors in the first case, it was revealed that on the 33 unresolved counts the jury was in favor by 8 to 4 of acquittal on all undecided charges and 11 to 1 for acquittal of Jim Preuitt. She said the three people who pled guilty and testified for the prosecution, Ronnie Gilley, Jarrod Massey and Jennifer Pouncey, lacked credibility and that three Republican legislators who testified had obvious political motivation. This lady predicted that it will be difficult for the prosecution to get a conviction in a retrial because of a lack of evidence.
We will see.
See you next week.
---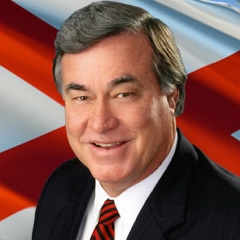 Alabama's premier columnist and commentator, Steve has analyzed Alabama politics for national television audiences on CBS, PBS, ABC and the British Broadcasting Network. Steve has been an up close participant and observer of the Alabama political scene for more than 50 years and is generally considered the ultimate authority on Alabama politics and Alabama political history.
All author posts