The political picture of Alabama 50 years ago was quite different from the one you see today. In 1961 we were on the cusp of beginning a decade of turmoil and political strife. The 1960's were dominated by George Wallace and the race issue. The early fall of 1961 was the quiet before the storm. Bear Bryant won his first national championship that fall. John Kennedy was president. Our entire congressional delegation was made up of all Democrats.
Fast forward 50 years and what a sea change. Not only has our delegation on the Potomac been completely reversed on a partisan page, so has the entire Deep South. In 1961 all eleven of our members of congress were all white male Democrats. Today eight out of nine of our senators and congressmen are Republicans. In addition, two of our nine members are female and one of the females is an African American.

In 1961 there was a distinct path to congress. Practically every one of our congressmen and senators took the same path to political power and a Washington career. First, they were all born and raised in Alabama. They were also born and grew up in the same county from which they were elected to congress. They attended the University of Alabama and became members of a fraternity, which was a member of the political party known as the Machine at the Capstone. They then went on to law school at the University of Alabama and came back home to practice law in their hometown until they had an opening to run for congress.
At that time our two senators, Lister Hill and John Sparkman, were the most powerful and revered tandem in the nation. They had seniority, power and prestige. Both chaired major committees and were held in very high esteem in Washington. They were both erudite and gentlemanly and were above race baiting and grandstanding. Some other southern senators were not as refined or reserved in their demeanor or protocol. For example, the delegations from Mississippi and South Carolina were constantly harping on racial diatribes and were relegated to being ignored and made a mockery of by the national media.
Sparkman and Hill were both men of substance and character. Both epitomized the aforementioned route to power described earlier. However, they came from different roots.
Lister Hill was the scion of a wealthy and prominent Montgomery family. His father was a renowned surgeon and wanted his son to follow him into his profession. The Hill family had been a dominant part of Montgomery politics since the city's start. Young Lister Hill enlisted in the political side of the family rather than medical. Hill indeed attended the University of Alabama and became the first student government president at the University. He also founded the Machine, a covert political party that became the dominant force in student government politics and still is today. Most of the congressmen of this era were products of the University of Alabama and the Machine. Therefore, they were all indirectly protégés and secret society fraternal brothers of Lister Hill.
John Sparkman was ten years younger than Hill but took the same University of Alabama, Machine path to power. Unlike Hill, who was born into privilege, Sparkman was the perfect Horatio Alger story. He was born on a small farm in Morgan County and worked his way through school shoveling coal for the furnaces that warmed the campus. He was president of the student government and of his fraternity, Pi Kappa Alpha. He was also a Phi Beta Kappa. After attending law school at the University of Alabama, Sparkman settled in Huntsville to practice law but was soon elected to congress where he served a decade before joining Hill in the U.S. Senate in 1946.
Before I leave Sparkman, it should be noted that the State's second largest city is now Huntsville. In 1946, when Sparkman went to the Senate, Huntsville was a sleepy cotton town with about 15,000 people. Today it has a population of around 300,000 and is a thriving metropolitan area with the highest educational level and per capita income of any place in the state.
This growth and prosperity is due to the Redstone Arsenal and NASA. John Sparkman is the reason that Huntsville became the research center for NASA and home of the Redstone Arsenal. It would not be improper or unfitting if the folks in Madison County were to decide to name their city Sparkmanville rather than Huntsville.
Next week I will continue with this theme and compare our current congressional delegation's paths to power to that of the group from yesteryear.
See you next week.
---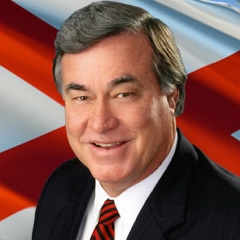 Alabama's premier columnist and commentator, Steve has analyzed Alabama politics for national television audiences on CBS, PBS, ABC and the British Broadcasting Network. Steve has been an up close participant and observer of the Alabama political scene for more than 50 years and is generally considered the ultimate authority on Alabama politics and Alabama political history.
All author posts