There is a well known maxim that says keep your friends close and your enemies closer. That adage came to mind when Gov. Robert Bentley brought his Democratic gubernatorial opponent Ron Sparks into the fold of his cabinet.
Bentley appointed his former rival to head the newly created Alabama Rural Development office. On the surface it would appear to be a Machiavellian political maneuver. However, it is vintage Bentley. He simply wanted to get the best person available while at the same time saving state dollars. Bentley's predecessor Bob Riley had created two agencies, the Alabama Rural Action Commission and the Black Belt Action Commission, by executive order. Bentley rolled them into one agency and got the perfect appointee in Sparks whose love and passion is agriculture. By his own admission Sparks never really wanted to run for governor but would have chosen to run for Agriculture Commissioner again if he had not been prohibited constitutionally from seeking a third successive term.

Last year's race for governor was void of the acrimony generally displayed in a gubernatorial contest. Bentley and Sparks actually got to know each other and became friends in their cordial battle. The appointment angered some of the hardcore partisans in both ranks. Bentley could care less. He has never toed the party line and does not owe his election to the party mechanics and zealots. Sparks probably realizes that the day has probably passed when a Democrat can win a statewide race in Alabama and if he wants to enter the political arena again he would probably have to run as a Republican.
At the same time that Bentley picked Sparks our new Agricultural Commissioner John McMillan selected his Democratic opponent Glen Zorn to join his administration. Like Bentley, McMillan is not going about his job with his eye towards the next election but is striving to do a good job as Ag Commissioner. He, like Bentley, ran for his post for the right reasons.
Zorn and McMillan are in their 60's and both have been in the agri-business their entire adult lives. Both men were extremely well qualified to be agriculture commissioner. Zorn, a Covington County native, had been assistant commissioner for eight years and McMillan simply reappointed him to his position saying, "Glen and I were able to get to know each other this past year when we both ran for the office of commissioner. We share many of the same goals for the State's number one industry and plan to work together to promote Alabama agriculture and industry."
McMillan's inauguration reception held at the Cattlemen's Association Building was probably one of the most festive and well attended events on Inauguration Day. It had a distinct Baldwin County flavor. McMillan and his wife Kathryn have deep roots in the former potato growing county. He represented them in the legislature at one time and his twin brother, Steve McMillan, took the seat when John left to become Conservation Director in 1979. Steve is now one of the most senior members of the House of Representatives.
Bentley's appointment of Sparks and McMillan's choice of Zorn are not only magnanimous gestures but good for Alabama.
While I am doling out accolades allow me to tip my hat to our new Attorney General Luther Strange. General Strange has jumped out to a stellar start. Much to his credit Big Luther realized that making Alabama whole from the BP oil spill would be his number one priority as attorney general. He also stood up and said I am going to personally handle it myself. In his second week in office he was in New Orleans in front of the federal judge overseeing the adjudication and arguing Alabama's case.
For years Alabama's attorney generals have doled out lucrative contracts to their cronies and contributors to do jobs that assistant attorney generals are paid well to do. Strange is spearheading our mission to get our fair share of economic damages suffered during the 2010 oil spill. The amount of money that the Education Trust Fund lost in tourism dollars is significant and Luther is also determined to not let go until we discover and are properly compensated for the long-term ecological damage caused to our gulf coast.
Luther Strange, John McMillan and Robert Bentley are all off to a good start.
See you next week.
---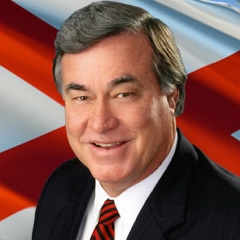 Alabama's premier columnist and commentator, Steve has analyzed Alabama politics for national television audiences on CBS, PBS, ABC and the British Broadcasting Network. Steve has been an up close participant and observer of the Alabama political scene for more than 50 years and is generally considered the ultimate authority on Alabama politics and Alabama political history.
All author posts