The overwhelming Republican tidal wave that engulfed the South in November basically washed away every white conservative Democrat in the region. The most conservative Blue Dog Congressional Democrats bit the dust from Texas to Georgia, including Alabama.
However, there was one anomaly. In Montgomery a young ardent and earnest Democrat named Joe Hubbard defeated a Republican to win a seat in the Alabama House of Representatives. He was one of only a handful of Democrats nationwide to unseat a Republican in a legislative seat.
Hubbard is no ordinary Democrat. He is the great grandson of Alabama's most illustrious U.S Senator Lister Hill. Hubbard is indeed named for his prominent grandfather and was sworn into office with the same family bible used to swear in his ancestor to Congress in the 1920's.

Most Alabamians vaguely remember Senator Hill, but he was a legendary power. Many consider him Alabama's greatest U.S. Senator. He was a Congressman and Senator for nearly half a century.
Hill looked like a U.S. Senator. He had chiseled features that depicted strong character. He was born into privilege to one of the most prominent families in Montgomery. Being the scion of a prominent family, he displayed an aristocratic erudite demeanor. He was the son of one of the South's most distinguished surgeons, Dr. Luther L. Hill.
Dr. Hill was one of the first American surgeons to successfully suture the human heart. Hoping that their son would follow his father into medicine, his parents named him Joseph Lister after the famous English physician who was the first person to advocate and practice widespread use of antiseptics.
Lister Hill entered the University of Alabama at age 16 and became the first Student Government President. He received his law degree from the University of Alabama School of Law and came home to Montgomery to practice law in 1916 at age 22.
Hill was first elected to the U.S. Congress at the ripe old age of 28. He served in the U.S. House for 16 years from 1923-1938. He was a stalwart supporter of President Franklin Roosevelt's New Deal. When FDR chose Alabama's U.S. Senator Hugo Black to go to the U.S. Supreme Court, Hill chose to leave his House seat and run for Black's open Senate seat. Hill won his first U.S Senate race decisively in 1938 and began a 30 year tenure in the U.S. Senate. When he retired in 1968, he had served a combined 46 years in Congress and the Senate. This is the longest tenure of any Alabamian to serve in Washington.
Senator Hill's accomplishments are memorable. He put his mark on all major legislation throughout his 30 years in the Senate. He was instrumental in legislation establishing the TVA, the Rural Telephone Act, the Vocational Education Act, the GI Bill and the National Defense Act. As Chairman of the Labor and Public Welfare Committee, Hill headed and passed legislation on veterans' education and labor relations. He was also an impassioned advocate for libraries.
Hill was a larger than life figure in Washington, but his greatest legacy was his landmark legislation in the field of public health. He was recognized as the most instrumental man in Congress in gaining greatly increased support for medical research at the nation's medical schools. The great medical center at the University of Alabama at Birmingham is the result of Lister Hill. Probably the most well recognized legislation that bears his name is the Hospital and Health Care Construction Act of 1946, which is better known as the Hill-Burton Act. Through this legislation, most of the rural hospitals in America and Alabama were built
Senator Lister Hill is probably Alabama's greatest U.S. Senator. Young Joe Hubbard has quite a legacy and very big shoes to fill.
See you next week.
---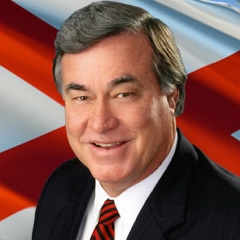 Alabama's premier columnist and commentator, Steve has analyzed Alabama politics for national television audiences on CBS, PBS, ABC and the British Broadcasting Network. Steve has been an up close participant and observer of the Alabama political scene for more than 50 years and is generally considered the ultimate authority on Alabama politics and Alabama political history.
All author posts