For the next three weeks I will chronicle and analyze this year's governor's race.
As is usually the case, the 2010 Alabama Governor's Race began two years prior to the event. By mid 2009 the field was fundamentally set. All of the horses had made their decisions and intentions known and were in the chute ready to go.
As the jockeying began in early 2009 the obvious frontrunner was three-term Democrat Lt. Gov. Jim Folsom Jr. Thus, Folsom's early decision to opt out of the Governor's Race and instead seek an unprecedented fourth term as lieutenant governor became the first big surprise of the young 2010 gubernatorial contest.

Folsom was the premier face card in the mix. He was expected to skate through the Democratic primary unscathed and arrive at the general election dance unblemished by negative ads and with his campaign coffers untapped. It was expected that a strong field of Republicans would clash over the GOP nomination. It was predicted that they would have a family feud and pummel each other with negative ads. The winner of the Republican primary would emerge in mid July beaten up and broke. This bruised and broke nominee would arrive at the dance and meet the fresh and flush Folsom with only three months to recover and Folsom would waltz to victory.
However, a funny thing happened on the way to the dance. A young African American congressman from Birmingham boldly declared his candidacy for governor. Once it became apparent that Artur Davis would not back down and was dedicated to running, Folsom had to reevaluate his plans to run for governor. It was really an easy decision for Folsom. He had been telling friends and hunting buddies that he preferred the life of lieutenant governor. Therefore, Folsom graciously acquiesced to Davis' kamikaze mission to end his promising congressional career.
Folsom also realized that a family brawl on the Democratic side would be suicidal. The Party's base is dwindling. African Americans now make up the majority of the Democratic Party in Alabama. You almost have to have a straight flush to win as a Democrat for Governor of Alabama.
Folsom's decision rearranged the chairs on the deck. Two-term Democratic Agriculture Commissioner Ron Sparks was poised to run for Folsom's job as lieutenant governor. He made no secret of the fact that he would defer to Folsom and whatever race Folsom made he would choose the other. Therefore, Sparks chose the Governor's Race out of default. Being the white candidate in the Democratic primary, Sparks was considered the dark horse. Even though he was not thought of as a thoroughbred, the Agriculture Commissioner was not a plow horse either. Sparks had won two statewide races carrying over 60 counties in each of his elections as agriculture commissioner. He hails from vote rich North Alabama and is a good retail politician.
These traits could not be attributed to Artur Davis. Davis came across as an aloof elitist. He portrayed the epitome of what a Harvard intellectual looks and acts like. He barely campaigned and arrogantly assumed that African Americans would vote for him because he was a black candidate. Davis ran an inept and lackluster campaign run by folks out of New York.
On the other hand, Sparks ran a stellar campaign. His open endorsement of a plan to tax and regulate gambling also resonated with Democratic voters. As a result, Sparks trounced Davis in the Democratic primary 62% to 38%.
Most observers expected Davis to get defeated in the fall if he had prevailed as the Democratic nominee. However, most folks were surprised by the humiliating and overwhelming beating he took in the Democratic primary. Davis not only lost because white voters rejected his candidacy, but he also lost among black voters. He even lost in his own congressional district. Davis never seemed to connect with his fellow African American brethren, who perceived him as somewhat distant and uppity. They handed him his comeuppance.
We will continue our look back at the 2010 Governor's Race next week.
See you next week.
---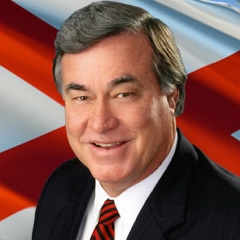 Alabama's premier columnist and commentator, Steve has analyzed Alabama politics for national television audiences on CBS, PBS, ABC and the British Broadcasting Network. Steve has been an up close participant and observer of the Alabama political scene for more than 50 years and is generally considered the ultimate authority on Alabama politics and Alabama political history.
All author posts