Alabama, from the time that Reconstruction ended in 1876 until the Goldwater landslide of 1964, was a one party state. For those 90 years we were such a Democratic state that there was essentially no Republican Party in the state. During the entire 90 year span no Republican was elected Governor, or to any other constitutional office for that matter. We never had a Republican U.S. Senator or Congressman. Every major elected official was a Democrat. All of our races were decided in the Democratic Primary, so winning the Democratic Primary was tantamount to election.
This dogmatic Democratic devotion was caused by the resentment instilled in white southerners toward the vengeful, vindictive, radical Republicans that invaded, pilfered and occupied the South during the 10 years from 1866 – 1876. The throes of Reconstruction rule were so harsh that southerners vowed that if they ever got their state government and rights back they would never vote for any Republican.
This mindset was handed down from one generation to the next. Many a dying grandfather who had lived through or been told tales of Reconstruction rule would tell their children and grandchildren on their death bed two things: Don't ever sell the family farm and don't ever vote for any damn Republican. That is why you hear old people say, "My granddaddy would role over in his grave if I voted for a Republican."
It did not matter how good a national Republican candidate was, southern whites voted Democratic. That is how the term "yellow dog Democrat" began. It was said that these southerners would vote for a yellow dog if it was the Democratic candidate regardless of who was on the Republican ticket.
This southern Democratic solidarity really made us a no party state because all the activity was in one party and one primary. We developed a system of every man for himself. We chose our Governors on personality and individual popularity. This bred colorful political characters like Huey Long, Gene Talmadge, Theodore Bilbo and our own Big Jim Folsom.
Another trend or ingredient to success in a statewide race for Governor was localism. In Alabama, we vote overwhelmingly for the candidate from our home county or area. With a runoff system in place and 6 to 12 candidates running for Governor, if a candidate drew heavy support from his county and adjacent counties he just might make the runoff. This trend can be seen in election after election in Alabama, especially in the early to mid 1900's.
This practice of voting for the candidate from your neck of the woods is referred to as the friends and neighbors politics of Alabama. This pattern of localism can be illustrated vividly in the statewide races of 1946. It helped Big Jim Folsom in his race for Governor that year. He actually claimed two homes. Big Jim was born and raised in Elba in Coffee County in the Wiregrass area of the state but moved to Cullman as a young man and sold insurance all over the counties surrounding Cullman. In the first primary, Big Jim led the field with 29% statewide but in both Cullman and Coffee counties he garnered over 70% of the vote. His main opponent, Calhoun County Probate Judge Elbert Boozer, received about 16% statewide in the first primary, but polled better than 50% in his home county and surrounding counties.
In a race for an open U.S. Senate seat that same year John Sparkman won his first term in the U.S. Senate. The local custom of friends and neighbors politics played out to his benefit. Sparkman carried his home county of Madison overwhelmingly and his Tennessee Valley congressional district propelled him to victory.
Probably the most telling friends and neighbors scenario played out in the race for Sparkman's congressional seat he was vacating after 10 years. The district consists of the Tennessee Valley counties stretching along the northern tier of the state. Each county had their favorite son, but Colbert County was hurt by having two. Jim Smith received 63% in Colbert. The Limestone County candidate got 65%. The Madison County candidate garnered 70%. The Jackson County candidate, Bob Jones, walked away with an amazing 98% of his county's vote, putting Jones in the lead with 23% of the overall vote, ahead of Smith's 20%. Bob Jones went on to win the seat and was the Tennessee Valley's congressman for three decades. He became one of the most powerful and revered congressmen this state ever had in Washington.
So there you have it my friends. That is what is meant when some old codger says he won that race because of friends and neighbors politics.
---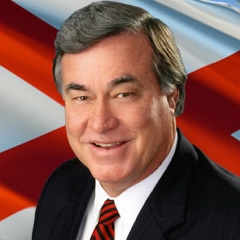 Alabama's premier columnist and commentator, Steve has analyzed Alabama politics for national television audiences on CBS, PBS, ABC and the British Broadcasting Network. Steve has been an up close participant and observer of the Alabama political scene for more than 50 years and is generally considered the ultimate authority on Alabama politics and Alabama political history.
All author posts