Last week we handicapped the 2010 Governor's Race. However, that will not be the only interesting race on the ballot in the upcoming election. We will have a smorgasbord buffet to choose from on the ballot next year. In addition to the Governor's Race, we have all of the Constitutional offices up for grabs. All 140 legislative seats are on the ballot along with all 67 sheriffs. Richard Shelby's Senate seat is up along with all seven of our congressional seats, one of which will be open due to Artur Davis' departure to seek the governorship of the state.
Jim Folsom Jr.'s decision to opt out of the Governor's race and seek an unprecedented fourth term as Lt. Governor has been the biggest surprise and story of the year in Alabama politics. Folsom will be hard to beat. He casts a dark shadow over that race. The major Republican players planning on running for that office have been scared out of the race by Folsom.
Both Beth Chapman and Kay Ivey were hoping to move up the political ladder to Lt. Governor. However, Chapman is now relegated to running for reelection as Secretary of State while Kay Ivey has to make a kamikaze mission for Governor. So far, the only one brave enough to take on Folsom is a reactionary gadfly State Senator from Shelby County named Hank Erwin who has been characterized as an irrelevant backbench loose cannon during his time in the Senate. Erwin is considered somewhat of a joke and will be a lightweight candidate. Folsom will probably not get opposition in the Democratic primary.
An interesting intra party battle is brewing for Attorney General. Incumbent Troy King has announced he will seek reelection. It would be quite an understatement to say that King has been the recipient of bad press over the past few years. He has been essentially tone deaf to criticism surrounding his multiple and overt ethical lapses that have been pointed out by the media. He is currently under federal investigation for dealings regarding his travel, cell phone use, and favors he asked of convicted former Junior College Chancellor Roy Johnson. King may very well be indicted prior to next year's primary. If he survives prosecution the exposure has certainly made him vulnerable to challenger Luther Strange.
Strange ran a very close race to Folsom for Lt. Governor in 2006 and has never stopped running. He will be well financed and will be able to expose King's past transgressions that have been delved into by the mainstream media as well as on the internet. The Democrats do not appear to have a viable horse at the moment. The obvious candidate was Mobile District Attorney John Tyson, Jr. but he has opted to run for reelection in Mobile next year.
The State Treasurer's job is wide open. Kay Ivey cannot run again. Surprisingly no big name candidates have emerged at this time. Stephen Black, who ran against Ivey in 2002 and lost, would have been the frontrunner but he has decided not to seek the Treasurer's post next year.
Richard Shelby plans to run for reelection to his fifth six-year term in 2010. He should receive only token opposition. He is considered unbeatable and he also has over $14 million in his campaign war chest.
The Republicans will make a concerted effort to come after freshman Congressman Bobby Bright in the Second District. Bright, a conservative Democrat, won this on paper Republican seat by a razor thin margin in 2008. It has to be a target by the National Republican Party. However, Bright will be tough to beat. He has voted straight down the line with the Republican Party and has campaigned throughout his district nonstop since his election.
You can rest assured that the Seventh Congressional District seat being vacated by Artur Davis will remain Democratic. This race will attract a bevy of strong candidates. The winner of the Democratic Primary will be the Congressman or should we say Congresswoman. My bet is that a female will capture this seat and be our first African American female congressperson. The three frontrunners thus far are all African American women. County Commissioner Sheila Smoot, Jefferson County State Senator Linda Coleman and Birmingham lawyer Terri Sowell, who is originally from Selma, are in the race along with Earl Hilliard Jr. whose father represented the district for ten years. The numbers in the district favor a candidate from Jefferson County.
---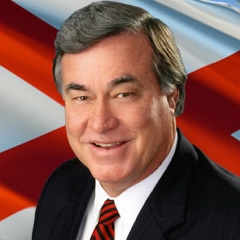 Alabama's premier columnist and commentator, Steve has analyzed Alabama politics for national television audiences on CBS, PBS, ABC and the British Broadcasting Network. Steve has been an up close participant and observer of the Alabama political scene for more than 50 years and is generally considered the ultimate authority on Alabama politics and Alabama political history.
All author posts