Fuller Kimbrell is a legend in Alabama politics. He turns 100 years old this Saturday, June 20 and a party is planned for him in Tuscaloosa. Kimbrell has written two books on his life and times entitled, "From the Farm House to the Statehouse" and "The Life and Times of Fuller Kimbrell." He has just completed a third book, which he will be signing at his 100th birthday party Saturday.
Fuller Kimbrell was born one of ten boys in 1909 to a poor farm family in Berry, Alabama. In 1936, during the Depression, Kimbrell migrated to Fayette, the county seat and largest city in Fayette County. From 1936 to 1948, Kimbrell had a John Deere dealership. Under his leadership, it grew from one of the smallest to one of the largest in the South.
Eventually, Kimbrell decided to run for the State Senate. He was elected on his first try in 1946, the same year Big Jim Folsom was elected Governor. Kimbrell's district was composed of Fayette, Lamar and Walker Counties.
When Big Jim was running for his second term in 1954, Kimbrell was his North Alabama campaign manager and Judge George Wallace was his South Alabama campaign manager. Big Jim won the 1954 Governor's Race in a landslide and appointed Kimbrell as his Finance Director.
As Finance Director, Kimbrell urged Folsom to create the Alabama Department of Industrial Development. Kimbrell drew up the bill creating the department and got it passed as written. Also during his first year as Finance Director, he recommended to the legislature a bill setting up a bond issue to build a state office building in Montgomery. It was approved and built and became known as the State Administration Building. It was later named the Governor Folsom Building.
During Kimbrell's time as a Senator and than as Finance Director, Highways 13, 69, 107 and 129 in his area were paved and made state highways because of him. An act by the Senate honored him by naming State Highway 171 the Fuller Kimbrell Highway.
Kimbrell was a Big Jim Folsom man. He stayed loyal to Folsom throughout his and Big Jim's careers. He was probably Big Jim's closest and most loyal friend. It did not hurt Fayette County and the surrounding Northwest Alabama areas that Kimbrell represented them in the State Senate and that he and Big Jim were thick.
Fuller Kimbrell shared two short stories with me the other day about that era in Alabama politics. Folsom did not have that many loyal friends in the Senate, but that did not deter old Big Jim from promoting an ambitious agenda. His programs and initiatives were big, just like him. There were only five Senators out of the thirty-five that Big Jim could count on. Two of them were from Northwest Alabama, Fuller Kimbrell from Fayette and Rankin Fite from Marion County.
Kimbrell and Fite would ride to Montgomery together. They would visit and plan their strategy on the way. One day Kimbrell looked over at Fite and said, "Rankin, I believe it would be better for you and me and our people up here in Northwest Alabama if we divided the goods from the State Treasury five ways rather than thirty-five." Fite looked over at Kimbrell, winked and said, "You're right." Fite and Kimbrell stayed loyal to Folsom and it paid off handsomely for the folks in Northwest Alabama. They practically moved the Capitol up there.
Fuller Kimbrell shared another funny episode from his days in the State Senate years ago. There was a Senator from the Anniston area who was a veterinarian. This gentleman brought a large briefcase onto the Senate floor everyday. Inside his satchel was a large fruit jar full of moonshine. The doc would partake of the brew from his mason jar all day. By mid-afternoon he was oblivious to the fussing, fighting and filibustering going on in the Senate. He could not care less about the tensions and tempers around him.
However, seated right next to the old veterinarian was a hard shell primitive Baptist minister from the northeast corner of the state. This preacher, unlike his seatmate, was caught up in the spirit of the spirited debates. The preacher would never participate in the arguments and acrimony. He would, however, periodically look up and close his eyes as if in prayer. He appeared to be talking to the Lord and praying for his fellow Senators. In response, the doc would reach into his satchel, pull out his fruit jar, take a sip and shout over to his neighbor, "Say a little prayer for me preacher. I need guidance on how to vote on this issue too."
---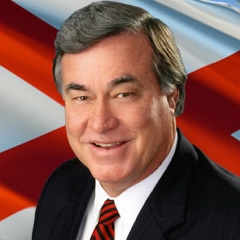 Alabama's premier columnist and commentator, Steve has analyzed Alabama politics for national television audiences on CBS, PBS, ABC and the British Broadcasting Network. Steve has been an up close participant and observer of the Alabama political scene for more than 50 years and is generally considered the ultimate authority on Alabama politics and Alabama political history.
All author posts