Next year will be a big year for Alabama politics. Besides the Governor's race, all of the other constitutional offices are up for grabs. In addition, all of the 67 sheriffs and 140 members of the Legislature are elected. It is a much bigger year for Alabama voters than a Presidential year.
Historically, Alabamians and Southerners have had a unique standard of voting more in Governor's races than Presidential contests. The major reason is that we were a one party state for over a century. After Reconstruction ended in 1876 we had only Democrats in every constitutional office, including Governor, for 110 years until Guy Hunt broke the ice in 1986.
Therefore, the Democratic Primary was the only show in town and winning this primary was tantamount to election. For most of those years the Republican Party did not even field a candidate. So traditionally we in Alabama and indeed our sister Deep South states voted more heavily in the Democratic Primary for Governor than in an election for President.
Another reason for the interest in the Governor's race may stem from the fact that most of our local races are held in the same year. Most rural Alabamians were more interested in who was sheriff than who was president. We have gotten more in line with the rest of the nation in recent decades and have become more interested in national elections.
However, we have taken a 180 degree turn in our partisanship. We have done one of the most tremendous flip flops in American political history. We were a safe bastion for the Democrats in Presidential elections from 1880 to 1964. We voted for the Democrat for President in every election for 84 years. We even voted for a liberal New York Catholic wet named Alfred Smith over a conservative Midwestern Protestant dry named Herbert Hoover when prohibition was the primary national issue in 1928. We were what you would call "Yellow Dog Democrats."
Since 1964, we have only once voted for a Democrat for President. Georgia neighbor, Jimmy Carter, eked out a slim victory in 1976. We have been a Republican state when it comes to presidential politics for 44 years. McCain's 60 to 39 shellacking of Obama in our state last year further illustrates that we are one of the reddest of red states. You might say that we are now "Yellow Dog Republicans."
However, this GOP tendency is more pronounced and dominant when it comes to national races. Besides voting eight straight times for the Republican candidate for President, both of our U.S. Senators are Republicans. When it comes to statewide races, especially the Governor's race, we appear divided. Both parties seem to be on a level playing field and we tend to vote for the person over party. However, since Hunt's surprise win in 1986, a Republican has won five out of six races for Governor. So there is parity, but the Republican has a slight edge.
Bob Riley cannot run for a third term. Therefore, the Governor's office is up for grabs. Several potential candidates are already in the game. Most of the major players will line up over the next three months. We will analyze the race at that time. The open Governor's office will create a shuffle in the down ballot constitutional offices such as Treasurer and Agriculture Commissioner that are open as well.
A lot of attention will be focused on the state Senate and House seats. All 140 are up for election. However, in practicality, incumbency gives a tremendous advantage to reelection. Therefore, only about 30 or 40 seats are really in play. The Republicans have raised a lot of money in hopes of wrestling control of the Legislature from the Democrats, who have overwhelming majorities in both chambers.
The question that is often asked of me is how in the world, if we are such a Republican state, can the state Legislature be so Democratic? The answer is it is only a matter of time. It will be close to even by 2014. It has not happened because there are conservative Democratic incumbents sitting in Republican seats. This anomaly occurs because of the enormous advantage of incumbency. These legislators continue on because of personal popularity or name identification, which allows them to transcend party.
There are at least three and probably six state Senate seats that are very Republican leaning that when the Democrat in them retires will more than likely go Republican. Most of these Senators are already or approaching 70. Senators Hinton Mitchem, Wendell Mitchell and Ted Little may be the last Democrats to sit in those Senate seats. The Democratic majority in the Senate and House may well be the high water mark for Democrats in Alabama.
---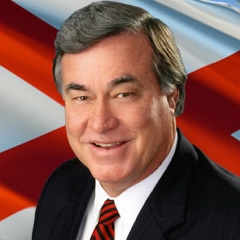 Alabama's premier columnist and commentator, Steve has analyzed Alabama politics for national television audiences on CBS, PBS, ABC and the British Broadcasting Network. Steve has been an up close participant and observer of the Alabama political scene for more than 50 years and is generally considered the ultimate authority on Alabama politics and Alabama political history.
All author posts