Last year's announcement by Volkswagen to locate their American plant in Chattanooga, Tennessee, rather than Alabama, was a disappointment. Although a lot of Alabamians who live in the Tennessee Valley will land good paying jobs in the plant, which will be just over the state line. In addition, there will be satellite component plants that will locate in our state to supply the major facility. This same scenario holds true for the Kia plant being built on the Georgia/Alabama border near Valley. The Kia plant will employ almost as many Alabamians as Georgians.
Hopefully, we did not lose the Volkswagen plant because of the discord and anarchy prevalent in our State Senate. Some political insiders are blaming the Senate chaos and stalemate for the loss of the mega plant. The plant was destined for Alabama by all accounts. However, plans changed at the last minute. It was a consideration by the Germans because the friction was already so pronounced and pervasive among the two factions of Senators.
In order to solidify the deal a special legislative session was required in order to raise the state's bond indebtedness. This is generally a perfunctory week long, everybody on board, apple pie and motherhood session. However, the Democrats had drawn a line in the sand and thrown down the gauntlet that there would be no incentive deal for Volkswagen without a plan to also approve the removal of sales tax on groceries. The Republicans are adamantly opposed to that issue because in order to offset the loss of income to the state an income tax increase would be imposed on middle income Alabamians. The German company had to be aware of the chaotic quagmire we have in our State Senate. The incentive package was not a done deal.
Nevertheless, we are now the number two auto building state in America and we are destined to eclipse Michigan in the future. All of our facilities are German and Japanese based, which are on the rise, while Michigan's General Motors and Ford models, as you know, are declining.
Jim Folsom, Jr. broke the ice almost 15 years ago when he landed Mercedes. We offered an incentive package to the German company that was generous to say the least. Most business periodicals stated that we bought the business. We probably did, but it was a smart purchase. It has paid off handsomely and started the snowballing avalanche of major auto plants and their subsidiary component partners locating in our state. We got Honda, while Don Siegelman was Governor and Gov. Riley brought Hyundai to Montgomery.
Riley has done an excellent all around job as Governor and has set records as an industrial recruiter. This will be his hallmark legacy. Riley was instrumental last year in landing two giants. ThyssenKrupp, the German steel company, will invest $3.7 billion in their new facility in Mobile, which will employ 2,700 people. The National Railcar Company will invest $350 million in a Colbert County facility that will employ 1,800. Altogether during Riley's tenure, he has lured over 300 industries with 100 or more jobs to Alabama. Combined new industry projects during his first six years on the job amount to total investments of more than $11 billion and close to 75,000 new high paying jobs.
Riley has been assisted by ADO Director Neal Wade, who is a veteran and has been with Riley since the beginning. Riley has been successful as Governor due in large part to his ability to attract and retain a stellar cabinet. His cabinet is probably one of the most blue ribbon assemblies in modern gubernatorial history. The majority of his executive cabinet members are successful businesspeople who are retired or financially independent. Some of the others, like Wade, could and have made triple their salaries in the private sector. Riley has been able to keep this cabinet in place, which has helped steer a steady course for his administration.
Gov. Riley still has two years to go, but is constitutionally precluded from a third consecutive term. He could, however, sit out four years and come back and run for a third term in 2014, if he does not like the person who is elected Governor in the 2010 election.
---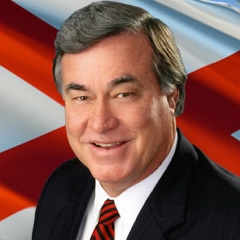 Alabama's premier columnist and commentator, Steve has analyzed Alabama politics for national television audiences on CBS, PBS, ABC and the British Broadcasting Network. Steve has been an up close participant and observer of the Alabama political scene for more than 50 years and is generally considered the ultimate authority on Alabama politics and Alabama political history.
All author posts