As 2008 comes to an end and we begin a new year in Alabama politics let us look back at what happened politically in Alabama in 2008.
Presidential politics took front and center stage. Barack Obama won the presidency in an impressive margin nationwide, but not in Alabama. Republican John McCain won Alabama overwhelmingly. The fact that the Republican nominee carried our state is no surprise. Since 1964 the GOP candidate has won ten times and the Democrat only once. That solo victory by Jimmy Carter in 1976 was 32 years ago, which makes the Republican streak eight straight. Therefore, it was no surprise that McCain won in the Heart of Dixie. However, the margin was larger than usual. The 60% to 39% shellacking McCain administered to Democrat Barack Obama was huge.
Our Junior Senator Jeff Sessions breezed to reelection to his third six-year term. His easy victory over an obscure, low profile opponent almost went unnoticed.
The most significant races in the state were for two open congressional seats. The 5th District Tennessee Valley seat, which had been held by conservative Democrat Bud Cramer for eighteen years, will remain in Democratic hands. Parker Griffith, a 66 year old retired physician and State Senator, won the seat as a Democrat and will join the Blue Dog Democratic caucus in Washington that Cramer helped organize and lead.
The 2nd District is a different story. This district, which covers the southeastern quadrant of the state, has been in the Republican column for 44 years since the 1964 Goldwater southern landslide, but not anymore. Bobby Bright, the Democratic Montgomery Mayor, won the seat with a grassroots populist appeal to wiregrass voters. This pick up was heralded in Washington as the district was considered a strong Republican enclave. Our congressional delegation is now four Republicans and three Democrats.
Bill Dickinson, the Republican Congressman who held the 2nd District seat for 28 years, passed away in Montgomery earlier in the year. He was 83 years old. Dickinson had been elected to a circuit judgeship in his native Opelika as a very young man. He left the bench to become a railroad lawyer in Montgomery.
In 1964, Dickinson signed up as the Republican nominee for Congress to run against the 28 year veteran Democrat George Grant. We had nine congressmen at that time and all nine were Democrats. Nobody saw the tsunami Republican Southern Goldwater landslide coming that November. The white southern voter incensed by the Democratic Civil Rights movement voted in record numbers for the straight GOP ticket headed by Barry Goldwater. Dickinson, along with four more GOP candidates, were swept into Congress by the straight lever pulling onslaught.
After his election, Dickinson deftly chose to go after a seat on the Armed Services Committee. During his 28 years he did a yeoman's job of looking after the district's all important military bases of Maxwell, Gunter and Ft. Rucker. Dickinson rose to be the ranking Republican on Armed Services. He retired from Congress in 1992.
Another Alabama political icon passed away this year. Jimmy Faulkner, a legendary Alabama politician and businessman, died at 92. Faulkner was Mayor of Bay Minette, a State Senator and ran close races for Governor in 1954 and 1958. He owned a chain of South Alabama newspapers and radio stations, as well as a life insurance company. Throughout his life he was a supporter of colleges in the state. Faulkner believed that higher education should be accessible to all Alabamians so he shared his wealth with colleges. Due to his extreme loyalty and philanthropic support, Faulkner University in Montgomery is named for him.
While traveling the state visiting my newspapers this past summer, one of my most enjoyable visits was in Centre. Early into my visit with the Cherokee County Herald, Kathy Roe called Dean Buttram Jr., one of my oldest and dearest political friends, to come over to the newspaper. He walked over a few blocks from his law office and we had the best time reminiscing. At age 58 Dean has had a remarkable life. He is one of the few people in America who left a federal judgeship to return to his hometown to be a country lawyer. He loves his area of the state and knows politics as well as anybody in Alabama.
Two weeks later on July 4th, Dean's father, Dean Buttram Sr., passed away at age 82 in Centre. Mr. Dean epitomized everything good about the "greatest generation in America," as captured in Tom Brokaw's book. He was a small town pharmacist who, like most small town pharmacists, served also as the town people's doctor. He ran Deans Pharmacy in Centre for 40 years. Mr. Buttram exemplified the American small town story that so many of us know and love.
Happy New Year and best wishes for a great 2009.
---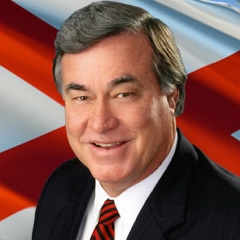 Alabama's premier columnist and commentator, Steve has analyzed Alabama politics for national television audiences on CBS, PBS, ABC and the British Broadcasting Network. Steve has been an up close participant and observer of the Alabama political scene for more than 50 years and is generally considered the ultimate authority on Alabama politics and Alabama political history.
All author posts