The Presidential Election is finally coming to a close. It has probably been an arduous and protracted process for many of you. However, for those of us who are political junkies, it is the most exciting day of the year. It is like the beginning of college football season, Christmas and 4th of July all wrapped up into one.
We will be unable to sleep the night before because of our excitement. We will peruse the last ads at 10:00 and watch Leno and Letterman get in their last shots. Early Tuesday morning, we will scan CNN and Fox to watch the expressions on the faces of the presidential candidates as they cast their votes in their home voting precincts of Chicago and Arizona.
A person's expression and persona are very telling. The candidates will have seen the last internal tracking polls from the night before, which will give them a good idea as to their fate. However, this election, like the last three will be close. Therefore, it will be hard to predict with any certainty.
I will never forget the look on Jimmy Carter's face the morning of November 1980 when the television cameras caught him casting his vote in Plains, Georgia. His expression and the tears that swelled in his eyes told the story. It was all over but the shouting. The tracking polls and his advisors had pretty much told him that his vote in his hometown hamlet of Plains was not going to save him. Indeed, when the votes were counted that night Carter had taken a good old fashioned country lickin' from a movie star from California named Ronald Reagan. It was a landslide.
Under the Electoral College process, this election really boils down to about seven battleground or swing states. The states to watch are Ohio, Florida, Missouri, Colorado, Nevada, Virginia and New Hampshire. If you have followed the schedule and appearances of the candidates they have stayed in these key states, with only an occasional foray into New York or California to raise money.
Indeed, Electoral College presidential politics is so scientific and predictable that these states' true swing voters can be pinpointed by their locale and demographic makeup. The candidates are concentrating on a suburban female in St. Louis, Missouri who calls herself a hockey or soccer mom, the commuter in the Tampa/St. Petersburg corridor of Florida, and moderate female voters in the booming picturesque areas of Chesapeake, Virginia and around the majestic mountains of Colorado.
The Hispanic vote is increasingly important as this is by far the fastest growing segment of our country. These voters are more prevalent in the states of Texas and California, but these two states may already be decided. California will vote Democratic and Texas leans Republican. However, the Hispanic vote may be crucial in the swing state of Colorado.
The most important enclave of the country may very well be the rural region of southern Ohio. These voters decided the election four years ago and they may do it again this year. Many experts predict that these folks, who more closely mirror voters in the South, will decide the election.
Obama and McCain have pretty much ignored us during the campaign. We in Alabama are considered a safe hardcore red Republican state. We have voted for the GOP candidate for president in the last eight presidential elections. It is a good bet that we will be 9 for 9 after next Tuesday. Therefore, the question is not whether John McCain will beat Barack Obama in Alabama, but by what margin? Most guesses are somewhere between 20 to 25 points.
There is predicted to be a large African American turnout in Alabama and nationwide because of Obama's historic candidacy. It will be interesting to see whether we have a reactionary concurrent white turnout.
The best state races are for the two open congressional seats in the second and fifth districts, which are open for the first time in sixteen and eighteen years, respectively. The second district race between Democrat Bobby Bright and Republican Jay Love will be one of the most watched in the country. Republican U.S. Senator Jeff Sessions should waltz to his third term.
There is only one open contested seat on the State Supreme Court. Republican Appeals Court Judge Greg Shaw is favored over Democrat Lauderdale County Judge Deborah Paseur. Historically, presidential years help statewide Republican candidates in low profile races in Alabama. Twinkle Andress Cavanaugh is hoping this same presidential coattail affect will propel her past Democratic icon Lucy Baxley in the race for the open post of President of the Public Service Commission.
---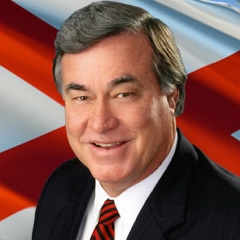 Alabama's premier columnist and commentator, Steve has analyzed Alabama politics for national television audiences on CBS, PBS, ABC and the British Broadcasting Network. Steve has been an up close participant and observer of the Alabama political scene for more than 50 years and is generally considered the ultimate authority on Alabama politics and Alabama political history.
All author posts