Presidential election years are generally less interesting or exciting political years in Alabama. We have very few state races on the ballot. Historically, we Alabamians have gotten more excited about state gubernatorial races than presidential races. I guess our forefathers suspected that our political interests would be more geared toward state and local politics so they put most of these offices on the ballot in gubernatorial years.
In two years we will vote for Governor, Lt. Governor, all seven constitutional offices, several seats on the Supreme Court, all 140 members of the Alabama House and Senate and all 67 sheriffs and probate judges. Although 2008 is a lean year for Alabama races, we do have a few. Now that the qualifying deadline has ended I will enumerate and handicap the contests for you.
Jim Sullivan, who has served as President of the Public Service Commission for over two decades, is stepping down. He has had a stellar career as head of the three member commission that regulates utility rates in the state. He is also the only male and only Republican among the three current commissioners. Jan Cook and Susan Parker, both Democrats, are up for reelection in 2010. Lucy Baxley is trying to make the PSC all female and all Democratic. Baxley, who suffered a debilitating stroke shortly after her 2006 loss to Bob Riley in the Governor's race, is the lone Democratic qualifier in the PSC race. Three Republicans have signed up. The most prominent is Twinkle Andress Cavanaugh, who is Gov. Riley's closest confidant and has served a stint as Chair of the State Republican Party. She lost an earlier race for State Treasurer six years ago. Jack Hornady, a retired PSC staffer, is also running for a second time. Hornady ran a good race two years ago. A third candidate, Matt Chancey, is making his first venture into state politics. Cavanaugh or Hornady should be favored to face Lucy Baxley in the fall.
The race for the only Supreme Court seat up for grabs is set for this fall. Appeals Court Judge Greg Shaw is the lone Republican qualifier for the seat of retiring Justice Harold See. Lauderdale County Judge Deborah Paseur is the only Democratic candidate. Business groups will back Shaw heavily in the race while the trial lawyers will gravitate to Paseur.
A big surprise came during the last week of qualifying when two Judges on the Court of Criminal Appeals announced they were retiring. Republican Judges Bucky McMillan and Pam Baschab decided late to not seek reelection. This brought on a flurry of activity with lawyers scrambling to seek these two Appeals Court posts. Four female Republicans qualified for McMillan's Place 1, Peggy Givhan, Beth Kellum, and Lucy McLemore, who are all from Montgomery, and Judge Theresa Petelos from Hoover. Petelos, a Circuit Court Judge from vote rich Jefferson County, will be the Republican favorite. Two Democrats also qualified, Steve Dodd and Clyde Jones.
Three Democrats, Jeff Duffie, Jon Hayden and Aimee Cobb Smith, and three Republicans, Mary Windom, Duncan Crow and Chris Mixon, entered the race to replace Pam Baschab in Place 2 on the Court of Criminal Appeals. Mary Windom is the wife of former Lt. Gov. Steve Windom. Therefore, she may have a little head start on the GOP side.
U.S. Senator Jeff Sessions is up for reelection for his third six-year term. He will be a prohibitive favorite to win reelection and will only have token opposition in the primary and in the fall. Sessions had a Republican qualify against him the last week, Earl Mack Gavin. Three Democrats also boldly signed up for the slaughter, State Senator Vivian Figures and two "also rans," Johnny Swanson and Mark Townsend. The eventual winner of the Democratic primary will be State Senator Vivian Figures, an unknown and underfunded State Senator from Mobile, who will be offered up as the sacrificial lamb in November.
In all of the above races the winners of the June GOP primaries will be the favorites in the fall. In presidential election years Alabamians have overwhelmingly voted Republican for President and straight down the ticket. This is particularly true for judicial races. Alabamians have for four decades shown a propensity for Republicans for President, especially when the Democrats nominate a liberal or left of center candidate, which will be the case this year. This generally transcends into straight ticket voting for down ballot state Republican candidates.
---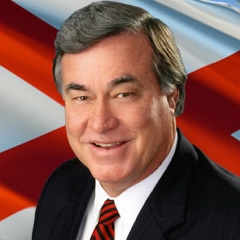 Alabama's premier columnist and commentator, Steve has analyzed Alabama politics for national television audiences on CBS, PBS, ABC and the British Broadcasting Network. Steve has been an up close participant and observer of the Alabama political scene for more than 50 years and is generally considered the ultimate authority on Alabama politics and Alabama political history.
All author posts