During the autumn months there has been a potpourri of political happenings in Alabama. So as the fall comes to a close and we enter the Christmas season let's look back on some the most notable events of the past few months.
Gov. Bob Riley planned to call a fall special session to deal with ethics reform but backed off. Riley did not grow up in Alabama politics. He worked most of his life as a businessman. As a result, he has shown some naiveté especially his first year in office when he proposed a huge tax increase which went down to ignominious defeat at the polls.
Riley ignored one of the cardinal rules of politics which is "you dance with those who brung you." His tax plan took aim at everybody who supported him in his governor's race. In fact, the more you helped him the more tax you would pay under his plan. He targeted ALFA the most and they were his most ardent supporters. The political giant, Alabama Farmers Federation, has never forgotten or forgiven him. They refused to support his 2006 reelection bid even though they basically support mostly republican candidates.
Even though Riley is inexperienced in Alabama politics he is a quick study. His decision to forego the special session illustrates that he has learned another rule and that is you don't pick a fight you cannot win. Discretion is the better part of valor. A special session would have been a disaster and total embarrassment, not to mention a waste of time and money. Funds the general fund can ill afford to absorb.
Even though next year is a big election year some elections were held in October. The Birmingham mayor's race, which included a dozen candidates, became a cakewalk for Larry Langford. Langford beat the entire field, including five major candidates, without a runoff. His 50.2% victory was impressive. His closest competitor, newcomer Patrick Cooper, garnered 30%. Incumbent Mayor Bernard Kincaid could only muster 8%.
Langford's past posts as mayor of Fairfield and Chairman of the Jefferson County Commission have been marked by whimsical spending and lack of fiscal responsibility. His pattern of taxing, borrowing, and spending at the Jefferson County Commission is already continuing as mayor. In his first week in office he has asked the city council to increase their city's sales tax and borrow to build a dome stadium. Langford's flamboyant and colorful demeanor and financial frivolity appears to enamor him with the Magic City voters.
Also during the fall in Birmingham Chris McNair, a civil rights icon, fell from grace. McNair, one of the most revered and respected political figures in Birmingham, was convicted of bribery and sentenced. McNair, whose daughter died in the infamous 1963 church bombing, served for over a decade in the legislature and then was elected to the Jefferson County Commission. As a county commissioner McNair oversaw the county's $3 billion sewer project. He was convicted of taking bribes from companies and sentenced to five years in prison and ordered to pay $850,000 in restitution.
In a special senate election in Baldwin County the GOP retained the seat. This was no surprise as it is one of the most republican districts in the state. However, the eventual GOP winner was a surprise. The four original candidates were all strong. The two frontrunners, Albert Lipscomb and Don Bishop, finished third and fourth. Randy McKinney led the primary field and his opponent Trip Pittman finished second. All the Montgomery PACs and Gov. Riley endorsed McKinney but it backfired. Pittman won the primary and the general election.
The most interesting race, as far as prognosticating the future makeup of the legislature, is the house seat of Neal Morrison in Cullman County. Morrison vacated the seat to take the presidency of a junior college. Morrison has held the seat for a decade as a conservative democrat. His voting record as a democrat mirrored that of most republicans. This Cullman district is considered a classic bellwether swing district. It will be interesting to see which party wins this seat. It may portend a party preference trend in legislative swing districts, although it may only hinge on local political popularity. Remember, all politics is local.
There is ample evidence that Alabama's decision to move our presidential primary to February 5th has given us more of an opportunity to meet the candidates. Although most of their forays have been brief and merely a stopover to raise money they have been here. A cursory count for 2007 has Hillary Clinton in Alabama twice, Bill once alone, and Obama has been here twice to raise money. On the republican side, McCain has been here four times, and Giuliani and Romney three each.
2008 should be interesting.
---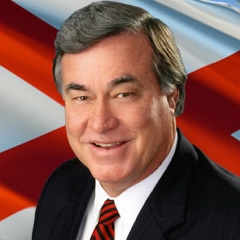 Alabama's premier columnist and commentator, Steve has analyzed Alabama politics for national television audiences on CBS, PBS, ABC and the British Broadcasting Network. Steve has been an up close participant and observer of the Alabama political scene for more than 50 years and is generally considered the ultimate authority on Alabama politics and Alabama political history.
All author posts