Three Alabama political icons from the 1960's passed away in late summer. They all three lived long lives and their memories are indelibly planted into our state's political history.
Richmond Flowers was born on Armistice Day November 11, 1918 in Dothan. He was the fourth son born to one of Dothan's oldest families. His older brother Paul, who later became the most prominent physician in Dothan and founded Flowers Hospital in the hub of the Wiregrass, was three years old when their neighbor old Dr. Green came out of the Flowers' home and told Paul that he had a little brother. All kinds of fire whistles blew and shotguns fired into the air. Bells were ringing over the celebration of the end of World War I but poor little Paul thought they were celebrating the birth of his little brother Richmond.
Richmond's older brothers chose medicine and banking careers. Richmond chose to be a lawyer. They all lived in Dothan. Richmond was elected to the State Senate in 1954 at age 36. He became close to Gov. Big Jim Folsom and was instrumental in getting the circle around Dothan.
Richmond was elected Attorney General of Alabama in 1962, the same year George Wallace was elected to his first term as governor. They clashed immediately, initially over patronage but the big battle came over civil rights. Wallace had ridden the issue to power. Richmond, who began his career as a segregationist, took a different approach after becoming attorney general. He refused to fight the federal courts like Wallace.
Flowers has been depicted in movies and books as a southern progressive and ardent supporter of a more moderate approach to civil rights by the national media. He is considered a hero for his progressive and brave stance during the volatile 1960's civil rights struggles.
Flowers ran for governor in 1966 and was the first white politician in Alabama to openly court black voters. He received over 90% of the black vote in that race, but finished second. Lurleen Wallace trounced the field.
Much has been written about Richmond Flowers. There was a 1989 movie, "Unconquered," about his life during the 1960's and a great book, "Bitter Harvest," written by John and Clara Ruth Hayman. He has been idolized by the northern press but he might be best known for being the father of Richmond Flowers Jr. who starred in track and football at Tennessee and later played for the Dallas Cowboys. His grandsons Richmond III and Bill both were college football stars at Duke and Ole Miss. Richmond Flowers died August 10th in his beloved Dothan at age 88.
MacDonald Gallion, another legendary Alabama attorney general of that era, died within days of Richmond Flowers at age 94 at his home in Montgomery. Gallion served two terms as Attorney General of Alabama and ran for governor in between his terms in 1962. As attorney general, he successfully litigated establishment of Alabama's offshore oil and gas rights. His foresight in this regard is the salvation of our State's general fund budget today.
Walter Johnsey became a behind the scenes power in Montgomery during the 1960's and remained a player until his death in late July. Mr. Walter passed away in Birmingham a few days before his 83rd birthday. He had been in failing health for several years. He lived longer than most physicians expected. He had lost a lung and an eye as a young boy working in the Walker County coal mines to help provide food and shelter for his family.
Walter was a real Horatio Alger story. He worked his way through Auburn and finished in the top of his class in engineering. He applied for a job with the power company and they hired him as a pole climber instead of an engineer. However, he climbed that pole all the way to the top of the company. Besides being CFO of Alabama Power he was successful in real estate. He amassed wealth and shared it generously with Alabama politicians. It was his political benevolence and generosity that made him the power behind the throne in Montgomery for four decades.
His 80th birthday party was a sight to behold. There were governors, congressmen, and about 40 legislators at his bash. If Walter was your friend he was truly a friend to cherish. He stuck by his buddies. When they put Mr. Walter to rest a lot of political history and knowledge was laid to rest in that Walker County cemetery.
---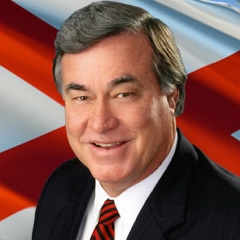 Alabama's premier columnist and commentator, Steve has analyzed Alabama politics for national television audiences on CBS, PBS, ABC and the British Broadcasting Network. Steve has been an up close participant and observer of the Alabama political scene for more than 50 years and is generally considered the ultimate authority on Alabama politics and Alabama political history.
All author posts