It seems like the saying, "thank God for Mississippi," has been around most of my life. This adage referred to our perennial status on most economic barometers and rankings as 49th but Mississippi was always last or 50th. We have progressed significantly economically over the past decade. Most charts put us around 40th. We are no longer next to the bottom and are likely in the middle of the pack in comparison to our sister southern states.
The dubious honor of being the most corrupt state in America belongs to Louisiana. No state in the nation can hold a candle to the sordid open chicanery practiced in that state. It is so crooked that most third world countries cannot compete. They are the kings of corruption and they are proud of it. Their politicians openly boast of being on the take. They make kings of Huey Long and Edwin Edwards and make them revered legends.
However, the sad reality is that in the past two decades on paper we have probably surpassed the Cajuns in public officials going to jail. Ironically we are supposedly not trying to be number one nor are proud of it the way they are in Louisiana. They relish the fact that one of their congressmen was recently caught taking a $100,000 bribe and stashing the cash in his congressional office refrigerator. They laugh about Congressman Jefferson giving new meaning to the phrase cold cash. However, they have had only one Governor convicted in the last 15 years. With the recent conviction of Don Siegelman we have had two, Siegelman and Guy Hunt.
Emotions are mixed about Siegelman's sentencing. Siegelman and his partner in crime, Richard Scrushy, received fairly stiff sentences. Each got about seven years in federal prison. In comparison, Hunt never had to serve time in prison.
The conviction of Siegelman and Scrushy centered around Scrushy giving the campaign for a lottery $500,000 in return for Scrushy getting a seat on the board that approves hospitals and nursing home beds in Alabama. It is questionable as to whether that is actually a crime or just plain politics. In most political science courses it is taught as a practical fact that throughout the history of our country presidents have rewarded their largest campaign contributors with ambassadorships to France, England, or exotic capitals around the world.
However, Siegelman never benefited financially. His campaign for Governor did not even get the contribution. The contribution he was convicted of went to a campaign to pass a lottery for education in Alabama.
It has long been my contention that Siegelman was convicted because the federal prosecutors in Montgomery strategically tied Siegelman to Scrushy. In other words, Siegelman went down because of the infamous Richard Scrushy.
Most Alabamians could not believe that Scrushy got away without being sent to jail for life for the blatant embezzlement scheme at HealthSouth. Scrushy's opulent lifestyle, financed by stolen funny money, made everybody in the State hate the sound of his name. That Montgomery jury was laying in wait. They could not wait to give him his due. His continued arrogance further incensed the jury. Scrushy pompously paraded around the courthouse showing no sign of remorse. His wife appeared with him dripping in diamonds and expensive clothes and being chauffeured to and from the courthouse in limousines.
Without trying to second guess the federal judge's sentencing it would appear to me that Siegelman did not deserve the punishment meted out to him. Mr. Scrushy is another story. Besides a life sentence at Leavenworth the judge should have taken every dime he dishonestly pilfered from unsuspecting stockholders, many of them losing their life savings.
It did not help either side that they tried to play the race card in the trial. The jurors, both black and white, saw through the scheme and it further infuriated them. For some reason historically Montgomery juries have been very dangerous for political figures. They are quick to convict politicians. If you are an accused politician you want your trial in your hometown. Very seldom will the home folks convict their own home boy, but Montgomerians sure will. Siegelman found that out the hard way and now he is doing some hard time.
---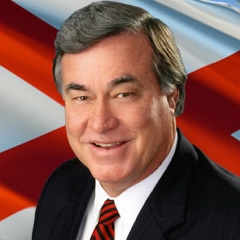 Alabama's premier columnist and commentator, Steve has analyzed Alabama politics for national television audiences on CBS, PBS, ABC and the British Broadcasting Network. Steve has been an up close participant and observer of the Alabama political scene for more than 50 years and is generally considered the ultimate authority on Alabama politics and Alabama political history.
All author posts