Last week we discussed the judicial races. This week we will focus on the remaining secondary statewide contests. Many of these positions arouse very little interest among the average Alabama voter because the majority of you could care less who holds the office of State Auditor or Secretary of State. In fact, if a poll were taken in two months less than 10% of Alabama voters could tell you who held these positions, probably could not even recognize the candidates name and more than likely could not tell you who they voted for in that race. Therefore, many of these secondary races will be decided by party preference and gender and who they are voting for in the Governor's race.
The Governor's race is the bell cow battle. Voters will actually make a conscious decision as to who they want for Governor. It is proven that the Governor's race will have some coattails. For example if Gov. Riley wins big in his reelection contest, as many polls indicate could happen, it will affect these down ballot races and translate into support for the down ballot republican candidates. If that happens you could see a sweep for republicans.
In the race for Attorney General Troy King is a Riley appointee and has never been elected in his own right. In fact, in his only other statewide race in 2002 he finished third in the GOP primary for Secretary of State. He had no experience as a prosecutor when Gov. Riley appointed him two years ago. He had never tried a case. In contrast, the democratic nominee, John Tyson Jr. has been the District Attorney of Mobile County for nearly a decade and has prosecuted hundreds of criminal cases. If qualifications mattered in this race it would be over before the counting because there is no comparison as to who is the more qualified candidate. However, being the republican nominee and having Riley's coattails may give King a slight edge.
The State Treasurer's race should be a cakewalk for republican incumbent Kay Ivey. However there are five down ballot races below Treasurer that will be interesting and exciting contests. All five should be rated as even or tossups.
The Secretary of State race between Republican Beth Chapman and Democrat Nancy Worley should be a good one. Chapman is the sitting State Auditor and is eyeing moving over to Secretary of State. Worley, the democratic incumbent, has been embroiled in controversy since her first days in office. In a job where you really should not make enemies she has managed to stir up bad publicity.
The same can be said for incumbent Public Service Commissioner Jan Cook. She has been in one of these secondary statewide offices for over twenty years. She has had the worst press of any public official during that time but she has always survived. She simply puts up green signs that say "Jan Cook" and she wins. She is being challenged by Republican John Rice of Opelika who is a former State Senator.
The Place 2 PSC race will be one of best on the ballot. This seat is open due to George Wallace Jr. vacating it to run for Lt. Governor. Perry Hooper Jr., who is a wily politician in his own right, inherits a golden political name. His father, Perry Hooper Sr., is loved statewide. Hooper Sr. was one of the founders and fathers of the modern Republican Party in Alabama and was the State's first Republican Supreme Court Chief Justice. Perry Hooper Jr. served nineteen years in the House of Representatives from Montgomery. He is a prolific fundraiser. However he will have a tough challenge to handle Democrat Susan Parker. She hails from vote rich north Alabama and has been elected as State Auditor in 1998. She is one of the best horses in the democratic stable and they are betting heavily that she will win.
Incumbent Democratic Agriculture Commissioner Ron Sparks should win. However former State Senator Albert Lipscomb, who hails from Baldwin County, could make it close.
The State Auditor's race, which is so low profile, will probably hinge on the Governor's race. Democrat Janie Baker Clarke and Republican Samantha "Sam" Shaw are both qualified women. This race should be a weathervane as to voter party preference in Alabama.
These stories will unfold in less than two weeks.
---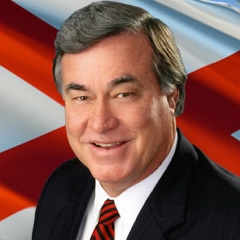 Alabama's premier columnist and commentator, Steve has analyzed Alabama politics for national television audiences on CBS, PBS, ABC and the British Broadcasting Network. Steve has been an up close participant and observer of the Alabama political scene for more than 50 years and is generally considered the ultimate authority on Alabama politics and Alabama political history.
All author posts