This week's primary runoffs have very little luster. The Republican Lt. Governor nomination is the only marquee race yet to be decided. The Governor's race is settled and the only drama stemming from the June 6th primary was the refusal of Roy Moore to endorse his fellow Republican Bob Riley. In fact, Moore flatly stated that he could not support Riley because Riley is inextricably tied to and beholden to special interests. Moore had just felt the sting of what it feels like to be on the short end of the stick where you have been outspent 10 to 1. That is a hard mountain to overcome.
Riley indeed has taken a lot of special interest money, but what winning gubernatorial candidate in the last century has not taken money tied to some special interests. On top of that Riley is running a very sophisticated 2006 modern era campaign enlisting the services of the best polling and best media advisors in the nation. Whereas Moore ran a very unsophisticated almost 1950s era campaign run by Alabama amateurs. Moore could have taken advantage of his national prominence gained by his Ten Commandments stand. He could have gone to the best grassroots fundraisers in the country and raised millions from $25 and $50 contributions and then hired the best direct mail and get out the vote groups in the country and found out where his voters were in Alabama and gotten all of them to the polls. However, Moore still would not have beaten Riley because of the power of incumbency and Alabama's economy is in robust shape.
Moore's criticism of Riley from his idealistic viewpoint is valid. It is also accurate in that some of Riley's money appears to be very tainted. There is a suspicious connection between a $300,000 contribution to Riley's campaign from the owners of a Huntsville biotech center and Riley's administration orchestrating a $50 million dollar state grant to that center. Lucy Baxley has frequently alluded to this deal. You may see ads referring to it in the fall.
There is also the question often raised about Riley's campaign accepting a tremendous amount of Indian casino gambling money in his 2002 campaign against Don Siegelman. One of the culprits of this year's major scandals was Mike Scanlon who served briefly as Riley's press secretary when Riley was a Congressman. Scanlon's firm gave $500,000 of Indian gambling money to the Republican Governor's Association and then that group gave $2.5 million to Riley's 2002 Governor's campaign. Scanlon and disgraced lobbyist Abramoff also gave money to four Alabama PACs that quickly disbursed it to Riley's campaign.
The Indian gambling money is difficult to trace and even more difficult to portray in a television ad. However, the Huntsville biotech money appears to be a transparent quid pro quo and could make for a juicy negative ad. The question is whether Lucy Baxley has the resources to exploit it with a full fledge television assault. The more fertile ground may still be to attack Riley on his $1.2 million tax proposal. This debacle still resonates with hardcore Republicans and could work to keep some of Moore's supporters at home in November. Baxley will still have to be conservative with her resources because she will probably be outspent 3 to 1 by the Governor.
As mentioned earlier, the only race yet decided is the Lt. Governor contest. As you read this you will know the outcome but my prediction is that Luther Strange has defeated George Wallace Jr. for the Republican nomination and will face Democrat Jim Folsom Jr. in November. If that is the case Wallace Jr. may be exiled permanently to Bucks Pocket. His plight makes me think about lyrics from the famous song, "Sweet Home Alabama." In this song a lyric says "in Birmingham they love the Governor." The irony of that line is that if you know Alabama politics their song is referring to George Wallace and the truth is that Wallace never could carry Birmingham. He repaid their lack of loyalty by withholding state highway funds from the State's primary city and thus causing Birmingham to lag behind Atlanta and other major southern cities with their interstate development. The sins of the father fall to the son. Wallace Jr. was trounced by Luther Strange in the suburbs of Birmingham and Jefferson County on June 6th and he probably scored the same landslide on Tuesday.
---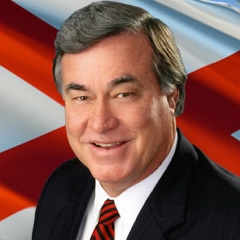 Alabama's premier columnist and commentator, Steve has analyzed Alabama politics for national television audiences on CBS, PBS, ABC and the British Broadcasting Network. Steve has been an up close participant and observer of the Alabama political scene for more than 50 years and is generally considered the ultimate authority on Alabama politics and Alabama political history.
All author posts