As you read this column you have the luxury of knowing the outcome of Tuesday's primary contests. However, due to deadline requirements this column was written prior to June 6th. The results of the June 6th primary possibly will have whittled the race down to the two final candidates for the November brass ring Governor's contest.
The best races overall were in the Republican primary. The GOP Lt. Governor's race has four candidates but George Wallace Jr., because of his inherent name identification, should lead the ticket. However, polls indicated that Luther Strange might have been in a possession to upset Wallace. Political observers were salivating at the idea of a race between the sons of legendary Alabama politicians, Big Jim Folsom and George Wallace. It would be a marquee November attraction between Jim Folsom Jr. and George Wallace Jr. but if Wallace Jr. did not win without a runoff he could be in trouble six weeks from now in the GOP runoff.
The most interesting race was the Republican primary race for Supreme Court Chief Justice. Drayton Nabers is the Riley appointee and Riley slate candidate. He was also the Business backed candidate. He was pitted against Roy Moore's chief disciple, Tom Parker. This one was a classic business vs. right wing contest.
Another Supreme Court race that was worth watching was the race between Glen Murdock and Jean Brown and newcomer Tracey Birdsong. Murdock is currently with the Court of Appeals and is a darling of business. Jean Brown was a Supreme Court Justice prior to being beaten by the above mentioned Tom Parker two years ago. The Moore endorsement propelled Parker to victory over Brown.
Moore's team put slates of candidates in several races at the last minute. The Moore candidates were Mo Brooks in the Lt. Governor's race, Mark Montiel in the Attorney General's race, Tom Parker for Supreme Court Chief Justice, Ben Hand against Justice Champ Lyons for Associate Justice Place 1 and Hank Fowler against Justice Tom Woodall for Associate Justice Place 2. There were other Moore candidates but it was uncertain who they were. The Supreme Court has become all Republican, therefore, these primaries are the most contested.
Some of the best Senate races around the State were decided in intra party battles. Our legislative races are becoming more and more like the national congressional races, very partisan. Party allegiance is filtering down to local legislative contests where people vote straight party lines. Currently out of our 35 State Senate seats, about 20 are committed to one party. There are about 10 exclusive Republican seats and about 10 hardcore Democratic seats. There are only about 15 that are open to bipartisan clashes. So the race for the committed seats is decided in the primary. Furthermore, much like in Congress, incumbency is practically an ironclad lock to reelection. The ability for an incumbent to raise money and the built in name id make a challenge race very difficult. That is why I cannot understand why legislators spend money like drunken sailors in an election year cycle. Knowing full well that there is a 90% probability that they will be back the next year and like a bad hangover they will have to deal with the spending spree.
While on the subject of incumbency, I will go out on a limb and presume that the latest polling data was correct and that incumbent Gov. Bob Riley has easily outdistanced his GOP primary opponent Roy Moore. Riley is a smart, good campaigner. The power of incumbency has helped him immensely. He has out fundraised and outspent Moore 10 to 1. He has a very professional campaign team on board who know how to spend the money and run a 2006 level media campaign. Riley's handling of Hurricane Katrina last year helped his image as a strong leader, but deeper than that is the economy. Remember James Carville telling Bill Clinton in his 1992 upset of George Bush to keep it simple, "it's the economy, stupid." In a race for President or Governor there is a direct correlation between a good economy and good poll numbers. Riley is the chief executive of a state where the economy is good and he is benefiting from it. I look forward to reviewing last Tuesday's results with you next week.
---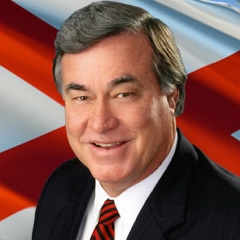 Alabama's premier columnist and commentator, Steve has analyzed Alabama politics for national television audiences on CBS, PBS, ABC and the British Broadcasting Network. Steve has been an up close participant and observer of the Alabama political scene for more than 50 years and is generally considered the ultimate authority on Alabama politics and Alabama political history.
All author posts