The Democratic and Republican primaries are less than five weeks away. This is the first big step towards our biggest prize, the brass ring of Alabama politics, the Governor's office. It is an eagerly anticipated spectacle that we Alabamians relish. The race usually starts four years in advance and this year is no exception. Bob Riley and Don Siegelman's race four years ago ended in a virtual dead heat. They both began their 2006 campaigns the next day. Lucy Baxley started running and running hard about three years ago and Roy Moore entered the fray about two years ago when he was removed as Chief Justice for his vaunted display of his Ten Commandments monument.
The primaries are June 6th and should be interesting. In the Republican primary, if you believe the polling data, Gov. Bob Riley enjoys a comfortable lead and could beat Roy Moore handily. Moore's partisans believe that their man is ordained to be Governor and that the polls do not reveal the depth and commitment of support that is awaiting Moore.
As expected Moore has made his display of the Ten Commandments his primary focus. However, he has branched out and talked about stopping illegal immigration, not needing a new Constitution, and a return to biannual legislative sessions. He harps on two main themes besides the Commandments issue. He says that Riley is controlled by special interests and that Riley abandoned GOP voters with his 2003 $1.2 billion tax increase package. Moore accuses Riley of Republican treason with his 2003 plan, saying "higher taxes and bigger government is not the Republican philosophy." Moore's message is sound. He delivers it mostly in churches. He has very little financial support.
Riley, because of the power of incumbency and poll numbers that put him miles ahead of Moore, has garnered all of the special interest PAC money. He is running a first rate professional campaign with his 10 to 1 fundraising advantage over Moore. Riley appears at this point to be a safe bet to win the GOP nod. He is not overly confident, but is edging closer to showing his hand as to his campaign plan against a Democrat. He plans to run against Paul Hubbert and the AEA.
On the Democratic side the race could be closer. Don Siegelman is fighting for not only his political life, but for his liberty and freedom in Federal Court in Montgomery. With a tenacity and focus maybe never seen in Alabama politics Siegelman has forged ahead with his campaign with precious little resources saying I am going to win the case and then I will win the race. This argument may resonate with hardcore Democratic voters if he is found innocent. There could well be a sympathy backlash for Siegelman among many Democratic primary voters if he prevails in court for a second time.
Lt. Governor Lucy Baxley is the favorite but it is close, much closer than the Republican race. However, polling indicates that there is a big difference between the success the Democrats would have against Riley with their choice on June 6th. Lucy Baxley is a much better horse against Riley than Siegelman. Lucy is virtually dead even with Riley. If Siegelman is the nominee lights are out for the Democrats. If you believe in polls Siegelman would lose to Riley in a landslide. Lucy and Riley are too close to call. Lucy transcends Party and there is still a reservoir of hardcore Republican voters who have not and will not forgive Riley for his 2003 tax debacle. It should be interesting to watch the final weeks. On June 7th the race will be down to two.
---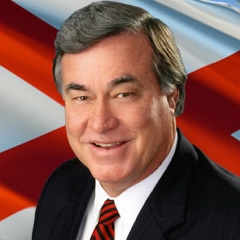 Alabama's premier columnist and commentator, Steve has analyzed Alabama politics for national television audiences on CBS, PBS, ABC and the British Broadcasting Network. Steve has been an up close participant and observer of the Alabama political scene for more than 50 years and is generally considered the ultimate authority on Alabama politics and Alabama political history.
All author posts