This year's Legislative Session is heading into the final month. The first two months have disappeared without much action or progress. This is generally the case, especially in election years where most of the time is spent posturing and procrastinating.
Most of Gov. Riley's proposals have been quietly ignored. They were dismissed as election year political platitudes designed more to please and win over Republican Primary voters than to ever become public policy. He proposed a $500 million capital supplemental appropriation for schools. As most insiders know, supplemental is another word for funny money or make believe tooth fairy dreams. He got the school superintendents excited for a few weeks but that is about as far as it went. He also offered a pie in the sky beatitude to give all Alabama taxpayers a gift from the one time education surplus. Even his delivery of this offering revealed signs of self doubt when he said, "It's at least a possibility that we can do it. If there's any money left I think it needs to go back to the taxpayers, go back to the families of this State."
While Riley made fairy tale political promises his likely November opponent, Lt. Gov. Lucy Baxley, continued to simply smile and say she is for education and that she was born and raised with a modest upbringing in Pansy in rural Houston County.
The one pressing problem which almost has to be addressed is the issue of prison overcrowding. The State's prisons are so dangerously overcrowded that doing nothing is not an option. Currently there are over 1300 state prisoners sitting in county jails. These prisoners have to go somewhere. It is a problem that cannot be swept under the rug any further. The Legislature will have to find the millions of dollars needed to resolve this problem or the courts will enact the appropriations and mandates from the Bench. The precedent is set. It has happened before. However, funding prisons is not a popular issue especially in an election year. It will take some statesmanlike, legislative leadership to step forward and solve this pressing problem as well as pass budgets that have some fiscal restraint.
This last month will be critical and most important decisions will be made the last few days and maybe even the final night. When it really gets down to the lick log only about a handful of Senators and about a dozen House members make the final decisions on the outcome of the premier issues and the final allocation of the State budgets.
Prior to and during the early days of the Session much talk and ink was given to passing legislation to set up a convention to rewrite Alabama's 1901 Constitution, which is archaic and too long. This issue will be left to be debated for another campaign year and maybe addressed in the next quadrennium. Also offensive racist language found in the 1901 Constitution will have to wait until a later year to be removed. It appeared to be too controversial to tackle in this, an election year.
The battle for control of the Senate is still brewing. It is like a boiling pot. It may not erupt during the Session because the minority group does not quite have the votes to oust Majority Leader Lowell Barron. However, rumor has it that the minority has strengthened their position. The minority consists of all ten Republicans and a few conservative Democrats. The new clout garnered by the group is the addition of powerful Rules Committee Chairman Jim Preuitt, D-Talladega. Preuitt came on board last year and is now their leader. He and Barron will probably square off in the battle for control of the Senate in January of next year.
Regardless of politics the Legislative Session will end next month and the last month of the Session will tell the story. It usually does.
---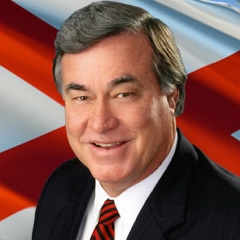 Alabama's premier columnist and commentator, Steve has analyzed Alabama politics for national television audiences on CBS, PBS, ABC and the British Broadcasting Network. Steve has been an up close participant and observer of the Alabama political scene for more than 50 years and is generally considered the ultimate authority on Alabama politics and Alabama political history.
All author posts