For those of us whose passions are Alabama politics and college football, February 1st is Christmas Day all over again or maybe even more exciting. As baby boomers approaching old age we get very few Christmas gifts we did not anticipate. After all, how exciting can new socks, a sweater, and your annual restocking of Old Spice be anyway? So we turn to the 1st of February as our next big day. February 1st is signing day when all high school football stars must select their college team and sign on the dotted line. We read every available periodical, newspaper, and website to find out how our favorite college team did according to Rivals.com and other rating services.
On that date we also find out how much money the leading political candidates have raised and have on hand for their 2005 efforts. State law allows for candidates to begin fundraising one year prior to the 2006 Primary. Our Primary is June 6th this year. Therefore candidates began raising money last June. All amounts garnered between June 6, 2005 and December 31, 2005 must be reported in year end campaign disclosure statements on January 31st. So those of us who follow politics get to see who has done the best in the early fundraising season. The candidates, like lizards, show their money.
The sweepstakes winner by a country mile was Gov. Bob Riley who showed a whopping $3.8 million plus a million dollar loan to his campaign from himself. So Riley's report officially showed $4.8 million. This surpasses the previous record of $2.7 million set four years ago by then sitting Governor Don Siegelman.
In contrast the big loser in this year's race is Siegelman who has raised a paltry $105,000 and his brother has signed a loan for $300,000. This is ironic because Siegelman is considered by many as the best fundraiser in the state, with the exception of Richard Shelby who is in a league of his own. Shelby is probably the most prolific fundraiser in America.
Lt. Governor Lucy Baxley has raised a very respectable $1.2 million, placing her second to Riley and putting to rest some skepticism from her critics regarding her fundraising ability. Lucy's money advantage reveals that she is clearly the frontrunner to be the Democratic nominee. The cloud of indictment has definitely hurt Siegelman.
Riley's Republican Primary opponent, Roy Moore, did not fare well in the fundraising war especially when compared to the formidable amount of cash raised by Riley. Moore reported $310,000 in contributions and a loan of $500,000 from supporters. Therefore, Riley out raised his GOP opponent by over a 10 to 1 advantage, proving that incumbency has its advantages. In fact the $3.8 million raised by Riley is more than double the amount raised by all three of the other major gubernatorial candidates combined.
Lucy's 10 to 1 money raised advantage over Siegelman and Riley's 10 to 1 lead over Moore would suggest that Riley and Baxley are the frontrunners for Governor and will probably be matched against each other in the ultimate battle in November. Siegelman and Moore will argue that money is unimportant because all four candidates already have name identification. However, these figures are a good indication of where people are placing their bets. The results are obvious.
There is a maxim in politics that has been around for years and is just as true today as yesterday and that is "money is the mother's milk of politics."
---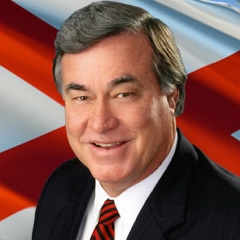 Alabama's premier columnist and commentator, Steve has analyzed Alabama politics for national television audiences on CBS, PBS, ABC and the British Broadcasting Network. Steve has been an up close participant and observer of the Alabama political scene for more than 50 years and is generally considered the ultimate authority on Alabama politics and Alabama political history.
All author posts