As 2005 comes to an end we will review the top political events of the year in Alabama.
At the beginning of the year it was speculated that four face cards, Republicans Bob Riley and Roy Moore and Democrats Don Siegelman and Lucy Baxley, would be the major players in next year's Governor's race. There has been no surprise here. All four have announced that they are candidates and they are all running hard as the new year approaches.
The annual session of the Legislature saw a continued tug of war in the State Senate for control. This unrest and continuous controversy seems to be based more on personality and power than partisanship. The Senate Republicans are unanimously opposed to Senate President Lowell Barron therefore the battle is among Senate Democrats. The loyalists are tenuous and changed daily during the session. This fight will continue during the 2006 Session which starts January 10th but will probably be played out in full in next year's Senate races.
During the 2005 Session, Gov. Riley attempted to challenge Dr. Paul Hubbert on the amount of a teacher pay raise. Riley's opposition was futile and more theatrical than anything. He knew that he could not contend with Hubbert's power in the Legislature. However, it is good politics for Riley for a GOP Primary against Roy Moore. Paul Hubbert and Joe Reed are lightning rods for Republican right wingers, the same way Hillary Clinton is on the national scene. GOP Primary voters love to hate Hubbert, Reed and Clinton. Riley will run against Hubbert and AEA next year.
An issue that dominated the 2005 Session, along with the budgets, was the BellSouth issue. BellSouth won the legislative battle overwhelmingly to reduce the Public Service Commission's regulation of some phone services.
Both political parties elected new chairpersons. The Republicans selected Twinkle Andress-Cavanaugh to be the first female GOP chairperson of the party in Alabama. In October the Democrats selected Lee County businessman Joe Turnham to be their chairman. Turnham had previously been chairman of the party and came back to the post by popular demand.
Former Alabama Attorney General Bill Pryor finally won Senate approval for a seat on the Eleventh Circuit Court of Appeals. Pryor's powerful federal appointment approval was spearheaded by Senator Jeff Sessions.
The Legislative Session ended with budgets being passed which looked close to being headed for deficit spending. However an upstart in the economy has improved the State's income projections. In this case it appears that sweeping problems under the rug or procrastination has paid off at least for another year.
In August the Mobile Mayor's race was won by County Commissioner Sam Jones. Jones will replace Mike Dow who retired after 16 years. Jones became the first black mayor of Mobile, defeating three white opponents. Both Alabama's largest cities, Birmingham and Mobile, now have African-American mayors. Most expect Montgomery to soon follow this pattern.
The biggest story of the year politically is probably the October indictment of Don Siegelman in Montgomery Federal Court. The indictment is massive and also names former HealthSouth CEO Richard Scrushy. However Siegelman took the indictment in stride and continued his Governors quest undeterred.
During the year the state lost two of its past Washington giants. Former Senator Howell Heflin and Congressman Tom Bevill had retired but were legendary. Heflin and Bevill were born the same year, fought in World War II together, went to law school together, served in Congress together, and died within days of each other.
Heflin served as Chief Justice of the Alabama Supreme Court and streamlined the state court system before going on to Washington to serve 18 years in the U.S. Senate.
Bevill served the people of his north Alabama 4th District with distinction for nearly three decades. He became so powerful that Alabamians from outside his district leaned on him for support for public works projects. After helping his district he would help the rest of the state. He was referred to as our third U.S. Senator.
In recent weeks the Alabama House of Representatives lost two of its most senior members. Jack Venable of Tallassee died of leukemia in November and Nelson Starkey of Florence passed away two weeks ago. Both had over 30 years of service in the Legislature.
Happy New Year!
---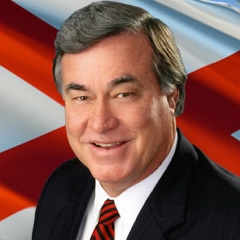 Alabama's premier columnist and commentator, Steve has analyzed Alabama politics for national television audiences on CBS, PBS, ABC and the British Broadcasting Network. Steve has been an up close participant and observer of the Alabama political scene for more than 50 years and is generally considered the ultimate authority on Alabama politics and Alabama political history.
All author posts