I hope you enjoyed the fourteen-week series on past Governor's races covering the 40-year span from 1962-2002. Many of you contacted me and shared your memories of these elections. Most of us lived through them and remember them vividly. We all have our favorite gubernatorial contests as well as our favorite Governors. However, considering George Wallace was Governor for most of that 40-year era we do not have as many Governors to choose from as most other states.
Alabama had a somewhat peculiar law in effect until the 1970s which prohibited the Governor from serving more than one consecutive term. However, you could come back and run again after waiting out four years. Big Jim Folsom did this. Bibb Graves also did this earlier in the century, but the terms were not successive due to the succession prohibition. In the post Wallace era we had two more two-term Governors, Fob James and Guy Hunt. Fob won in 1978 and came back to win again in 1994. Hunt won back to back races in 1986 and 1990, after the succession prohibition was repealed. Therefore, the only men to be elected to two terms as Governor of Alabama were Bibb Graves, James E. "Big Jim" Folsom, Forrest "Fob" James, and Guy Hunt. George Wallace was elected Governor four times and his wife, Lurleen, once.
As a result of the constitutional prohibition against a Governor succeeding himself until the 1970s, a recurrent theme arose throughout the century and was quite noticeable during and prior to the 40-year era we just covered. That theme or practice is known in political lore as the "get acquainted race." Political theory in Alabama was that you ran your first race to get acquainted with the voters. If you ran strong that first race but finished second then you became the front runner for the race four years later because there would be no incumbent standing in your way. This theory made sense because there was no television so you could not buy instant name identification. In the get acquainted race you got to know people and build a statewide organization. If you were serious about winning and loved politicking the way George Wallace did then you would run your campaign for four full years. You were simply getting acquainted in your first race so there was no stigma in losing, but you did need to finish second.
This practice started early in the century. William "Plain Bill" Brandon made his first run for Governor in 1918. He ran a close second to the winner, Thomas Kilby. Brandon continued to campaign vigorously for four years and was elected Governor in 1922 by a margin of three to one over Bibb Graves. Graves, having run second, campaigned for four years and won his first term for Governor in 1926 and came back to win a second term in 1934. Frank Dixon ran against Bibb Graves in the 1934 election and lost badly. However, he had run a get acquainted race and won in 1938, defeating Chauncey Sparks of Barbour County in the primary. So when Frank Dixon left office in 1942 you can guess who won the Governor's race that year, Chauncey Sparks. Guess who ran against Sparks in 1942, none other than Big Jim Folsom. Big Jim ran a good get acquainted race that year, so as was the practice Big Jim won the 1946 Governor's race. Gordon Persons and John Patterson were one term wonders in 1950 and 1958. Big Jim won his second term sandwiched in between the two, but guess who ran second to John Patterson in 1958. You guessed it, George Wallace, "the fightin' judge." After his loss to Patterson, Wallace began running for 1962 and he won and the rest is history.
So if you ever hear an old timer refer to the "get acquainted race" while discussing Alabama political history you will know what he is talking about.
---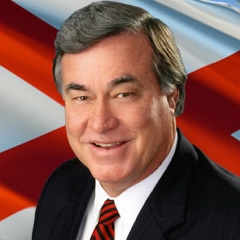 Alabama's premier columnist and commentator, Steve has analyzed Alabama politics for national television audiences on CBS, PBS, ABC and the British Broadcasting Network. Steve has been an up close participant and observer of the Alabama political scene for more than 50 years and is generally considered the ultimate authority on Alabama politics and Alabama political history.
All author posts