The 2006 campaign season officially began on June 6th with the opening of fundraising, but the players have been slow to pull the trigger or at least show their hands. However, the two Democratic frontrunners for Governor, Lucy Baxley and Don Siegelman, have not been shy or reluctant. Siegelman filed papers the first day and you can bet he is fundraising and a legendary Birmingham political contributor admitted that Lucy Baxley called him at home at 7 a.m. the morning of June 6th to ask him to be one of her first contributors. Lucy may dispel doubts that she is a weak fundraiser. Lucy is the early favorite. However, the more the Republican federal prosecutors prolong the Siegelman probe, it plays to Siegelman's advantage. He is getting a lot of sympathy support among minority voters who perceive him as being persecuted for political reasons. Minority voters make up a majority of Democratic Primary voters in Alabama.
The two Republican face cards for Governor, incumbent Bob Riley and challenger Roy Moore, have not shown their hands officially although both are expected to enter the arena by year end.
Speculation that a host of candidates would run for Lt. Governor appears to be unfounded. The field is beginning to take shape and it will be smaller than expected. Earlier in the year there were twelve names being tossed about as prospects. It has now narrowed to a handful and most of the hopefuls are Republicans.
The entry of George Wallace Jr. into the race about three weeks ago has made several prospects scatter like a covey of quails. As soon as Wallace announced, two potential Lt. Governor candidates, Jim Bennett and Perry Hooper Jr., switched races to run for Wallace's Public Service Commission seat which is up at the same time. Terry Butts who appeared to be the Roy Moore candidate is now tentative about his plans. Luther Strange, a longtime Washington lobbyist from Birmingham, is poised to stakeout a position as the big business candidate in the Republican field. George Wallace Jr. having inherited the best known political name in state history starts out as the clear favorite in a race which will rely primarily on name identification.
The Democrats have drawn a blank in the Lt. Governor's race. Many are still urging Jim Folsom Jr. to be the standard bearer. He is listening and could heed the call. Many political junkies are salivating at the thought of the state's two greatest icons' sons battling it out. It would be intriguing if the son of George Wallace was the Republican nominee and the son of Big Jim Folsom was the Democratic nominee for Lt. Governor.
Both have already had successful political careers, whether because they inherited their fathers' names or not. Jim Folsom Jr. has been a Public Service Commissioner, Lt. Governor, and Governor. George Wallace Jr. has been a Public Service Commissioner and Treasurer.
Speaking of Treasurer, Kay Ivey, the current Treasurer, has announced she will run for reelection. It was rumored that she may want to run for Lt. Governor but she has opted to seek reelection. Current Agriculture Commissioner Ron Sparks was also considered a Lt. Governor aspirant but he appears happy to run for reelection. State Auditor Beth Chapman hopes to move from her post to Secretary of State. Chapman, a Republican, wants to oust Nancy Worley, a Democrat. Mobile District Attorney John Tyson Jr. appears ready to run for Attorney General as a Democrat. Longtime Democratic State Senator Tommy Ed Roberts who served as a Democrat but voted with, voted like, and organized with the Republicans for the last decade has decided to retire. Even if a Republican takes this seat they will not be as good a Republican as Roberts has been. State Senator Zeb Little, who looked at running for either Attorney General or Lt. Governor, has opted to run for re-election to his Senate seat.
There will be other interesting Senate races around the state. I will keep you posted.
---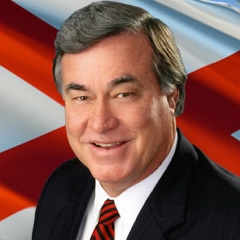 Alabama's premier columnist and commentator, Steve has analyzed Alabama politics for national television audiences on CBS, PBS, ABC and the British Broadcasting Network. Steve has been an up close participant and observer of the Alabama political scene for more than 50 years and is generally considered the ultimate authority on Alabama politics and Alabama political history.
All author posts