Tip O'Neal, the famous old Irish political pol who represented Boston for three decades in Congress and rose to become Speaker of the U.S. House of Representatives never forgot where he was from and who sent him to Congress. He believed in taking care of the home folks. His most famous saying was "all politics is local."
For those of us who have served as legislators or congressmen no saying is truer or wiser. It is well documented that more legislators have been defeated because of their handling of a local bill than for voting for or against anything substantial on the state level, even taxes.
It was obvious as I watched the votes and actions of my legislative colleagues that those who stayed a long time avoided local controversy but at the same time understood their districts and voted to protect each of their local county's interests. Many people are unaware of the importance that the state purse strings are to individual communities. State government is big business. When you combine state education and all of state government it is the biggest payroll in Alabama. State spending has a ripple effect and in many locales if you took a state facility away you would destroy the community and its economy.
To illustrate the importance of state dollars to successful legislators I will use each of my best legislative buddies, who sat in a block around me in the House Chamber, as examples. It was 1998 and the five of us together had well over 100 years of seniority. We all had been elected time and again from each of our communities so you would have to assume we were responsive to our constituents.
The one with the most seniority was Pete Turnham from Auburn who sat to my right. He served 40 years from Lee County and holds the record for longevity in legislative service in the history of our state. It is obvious when you say he is from Auburn and Lee County that the most recognizable entity in his district is Auburn University. Everyday Mr. Pete worked to protect Auburn. He served on Ways and Means and over his 40 years in the legislature there is no telling how many millions of dollars he brought home to his University. There should be a gigantic monument to Pete outside the President's office because there has never been a President or Chancellor, nor will there ever be, who has done as much for that school. He knew what was important to his district and he stood tall for it. His every vote was cast with an eye towards what was good for Auburn University.
To my left sat Skippy White from Escambia County. Skippy and I both were elected the same year, 1982. We served 16 years together and for the life of me I could not understand why he cared so much for prisoners and convicts. He chaired the Prison Oversight Committee, which was a dreary job, and would perk up like a scared rabbit whenever the word prisoner or prison came up. It finally dawned on me that the state's biggest prison was in Atmore, which was in Skippy's county. He knew what was important to his district. The state dollars spent on the Atmore prison made it the largest employer in Escambia County.
Tim Parker, from Tuscaloosa, sat directly behind me. Tim was a very successful businessman, but took the time to serve on the busy Ways and Means Committee. Why, because he represented the University of Alabama. The University lobbyists would come by his desk everyday. However, not only is Tuscaloosa home to the University of Alabama but also the state's largest mental health institutions, Bryce and Partlow. If you took these institutions of mental health and higher education out of Tuscaloosa it might be a ghost town.
My other seat neighbor was the respected 24-year House veteran from Elmore County, Jack Venable. His county has always been a bedroom community for Montgomery County and the vast numbers of state employees who work at the State Capital. Jack was cognizant of the fact that even though these state employees worked in Montgomery they lived and voted in Elmore County. Therefore, Jack was always a loyal supporter of state employees.
Therefore, I only had to look around at my seat mates to see the importance of state dollars to a city or county in Alabama and to understand that all politics is local.
---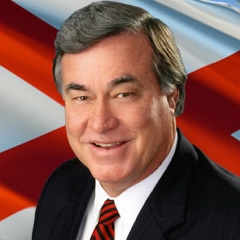 Alabama's premier columnist and commentator, Steve has analyzed Alabama politics for national television audiences on CBS, PBS, ABC and the British Broadcasting Network. Steve has been an up close participant and observer of the Alabama political scene for more than 50 years and is generally considered the ultimate authority on Alabama politics and Alabama political history.
All author posts