In the expected face-off battle between Bob Riley and Roy Moore in the 2006 Republican Primary for Governor, Riley won the opening salvo with the selection of Twinkle Andress as the new chairman of the State Republican Party. Twinkle has made history as the first female to serve as chair of a major political party in Alabama. She is a stalwart Riley backer and moved to the GOP position directly from Riley's cabinet.
Rumors have persisted for a long time that the insiders of the Republican executive committee are planning a coup to keep Roy Moore off of the ballot in the 2006 Primary. The trumped up reason would be that Moore accepted some third party's nomination for President last year or at least spoke to them. However, it is doubtful whether the committee would actually orchestrate such a bold move. They would incur the wrath of at least half the GOP Primary voters if they ousted Moore from the party Primary. It would be a debacle that would backfire and cause irreparable indignation and maybe even a walkout of the ardent right wing, which is now the base of the Republican Party.
Even though Riley has yet to show his hand as to his intentions to seek reelection, he seems to be edging closer to a decision to run. Moore won a victory of sorts last year with the defeat of Amendment 2, which would have removed racist language from the Constitution. Moore opposed the Amendment, while Riley endorsed it. The vote was close statewide, but when you take out the Democrats who voted for Amendment 2 and factor in only Republican voters, the Republican vote had to have been overwhelmingly against.
Moore appears to be poised to run and seems very confident of his chances. He is assuming that he will win and that he will have coattails. Therefore, you could see a team system in the GOP Primary. Moore appears to be lining up a slate. Rumor has it that his choice for Lt. Governor will be Terry Butts. Butts, a former Democratic Supreme Court Justice, is a recent GOP convert and a Moore ally who helped defend him in his impeachment hearing. Butts was first interested in Attorney General, but Moore has recruited him for Lt. Governor. This leaves young Troy King in a good position as the Republican Party nominee for Attorney General. King staking out the right wing early after his appointment has obviously pleased the Moore folks. In addition, as a Riley appointee, King is in good graces with the Governor, therefore, making King amenable to both the Riley and Moore slates. The most obvious and predictable member of the Moore slate will be newly anointed Supreme Court Justice Tom Parker. Parker is Moore's chief lieutenant and most ardent disciple. He will probably be the Moore candidate for Chief Justice.
If Riley fields a team it may include his legislative ally Representative Mike Hubbard of Auburn for Lt. Governor and his appointees King for Attorney General and Drayton Nabers for Chief Justice. It should be a bitter battle between Moore and Riley in the Primary and they may have a difficult time burying the hatch when all is said and done.
Lucy Baxley was hoping for clear sailing for the Democratic nomination but if Siegelman survives indictment she will be in for a blood bath. She was also hoping to field a slate of Lucy candidates to avoid Democratic Primary opposition and arrive at the General Election dance without any scars and plenty of campaign cash. Some jockeying is going on in that regard. State Senator Zeb Little of Cullman, who is itching to run statewide, was eyeing the Attorney General race. However, veteran Mobile District Attorney John Tyson, Jr. may be the better candidate to oust Troy King. Therefore, Lucy and the Democrats have pushed Little over to the Lt. Governor's race. The bad part of Little's running statewide may be that he leaves open a vacant Senate seat, which the GOP may be able to grab. Every seat will be important in the battle to control the Senate in January 2007.
Posturing and positioning for the 2006 races will be in high gear over the next few weeks because state law allows fundraising to begin June 6th. I will keep you posted.
---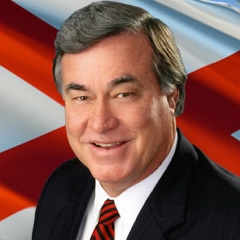 Alabama's premier columnist and commentator, Steve has analyzed Alabama politics for national television audiences on CBS, PBS, ABC and the British Broadcasting Network. Steve has been an up close participant and observer of the Alabama political scene for more than 50 years and is generally considered the ultimate authority on Alabama politics and Alabama political history.
All author posts