Since this column is written before Tuesday's electoral outcome, I do not know the election results. Therefore, I cannot comment on the Presidential or statewide elections. However, there is one result I feel confident in predicting. It's a safe bet that our Senior Senator, Richard Shelby, won reelection to his fourth term in the U.S. Senate on Tuesday.
Richard Shelby is our most successful current Alabama politician. He has chronicled a picture perfect legislative career. At age 70 he has served three successful six-year terms in the U.S. Senate. For 18 years he has been one of 100 in the world's most prestigious legislative body. His Senate status has risen in each of the 18 years. As he enters his fourth term, he has reached the echelons of power and seniority very few enter. Shelby is easily one of the top 20 most powerful U.S. Senators and most probably in the top 10. He sits as a ranking member of the Appropriations Committee and serves as Chairman of the Senate Banking Committee.
It seems like yesterday when in 1970 I was a Freshman at the University of Alabama, and the toughest Governor's race slugfest in modern history was occurring. The Wallace-Brewer race was something for history. That same year I noticed the Tuscaloosa highways were adorned with billboards for a young, handsome Tuscaloosa lawyer named Richard Shelby. He was making a bold race to challenge an incumbent State Senator. Shelby won handily.
At the end of this term, Shelby will have served 24 years. He will be in the annals of Alabama history for longevity as some of our great U.S. Senators such as Lister Hill and John Sparkman.
He served two terms, eight years and built a reputation for being practical and effective. He worked hard for the University of Alabama which was the lifeblood of Tuscaloosa's economy. His law partner, Walter Flowers, had been the U.S. Congressman for about 10 years and decided to take a plunge at a U.S. Senate seat. Flowers would lose to Howell Heflin that year for the open seat being vacated by the great John Sparkman. Shelby had been positioning to run for Lt. Governor in 1978. However, when his pal and law partner, Flowers, chose to leave the 7th District Congressional Seat, Shelby switched courses and ran and won the Congressional seat. He was effective but felt frustrated by being one of 435 in Congress and looking at the probabililty of waiting another 15 or 20 years before he could chair a committee.
The extremely conservative Jeremiah Denton had been elected in 1980 in the Reagan conservative sweep. He had been completely cavalier toward Alabama constituent concerns, had refused to answer mail from Alabamians or return calls or come home. Denton had written a script on how to get beat as a U.S. Senator. However, Shelby, who was an eight-year veteran Democratic Congressman took a big gamble to take on Denton who as an incumbent was still favored.
Shelby, unlike many people who have served in public office and have very little personal wealth, had been successful as a Tuscaloosa lawyer and his real estate investments had made him wealthy. He looked at the race against Denton in 1986 and rolled the dice. His gamble paid off. He narrowly defeated Denton and has never been seriously challenged.
He has worked hard to garner power and has used his power for the benefit of Alabama. He has never forgotten where he came from and whom he represents. His office has one of the best constituent service reputations in Washington. You will get a letter answered by return mail and a question answered within a days time. He made a commitment in 1986 to visit every county in the state and listen and learn about issues important to them, and he has diligently kept that promise. Over the past 18 years he has held more than eleven hundred county meetings and even though he chairs major committees that affect our world and national future, he takes time to listen to an Alabamian's concern about his or her missing Social Security check.
---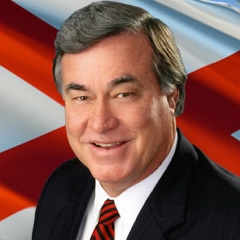 Alabama's premier columnist and commentator, Steve has analyzed Alabama politics for national television audiences on CBS, PBS, ABC and the British Broadcasting Network. Steve has been an up close participant and observer of the Alabama political scene for more than 50 years and is generally considered the ultimate authority on Alabama politics and Alabama political history.
All author posts