The November election is fast approaching. The Presidential race seems to be the center of all political attention. However, we do have some state races this year. The highlight of our state races will be for the three seats on the State Supreme Court. Currently eight-out-of-nine of our State Justices are Republican. The only Democrat on the high court, Douglas Johnstone, is retiring. Another Justice, Gorman Houston, a Republican, is retiring. Running for Houston's open seat is Republican, Mike Bolin of Jefferson County, and John Rochester, a Democrat Circuit Judge from Ashland. Seeking Johnstone's seat is Democrat Roger Monroe and Republican Patti Smith. Bolin and Smith won their Republican primary victory's with large pluralities in Jefferson and Shelby counties and lots of business money. The Business Council will be pouring even more money into their campaign coffers. It's expected that the plaintiff lawyers will support Democrats Rochester and Monroe. Tom Parker is the Roy Moore backed Republican candidate for the third seat. He defeated fellow Republican incumbent, Jean Brown, in the June 1st GOP Primary. Parker was the candidate of Moore's Christian Coalition, and the trial lawyers in June. He will be tough to beat. His Democratic opponent is Mobilian, Robert Smith. All three Republicans are favored to win. If that happens, that will make the Supreme Court all Republican – nine-out-of-nine.
The way our campaign finance reporting system is so lax makes it easy to put wolves in sheep's clothing. It will be interesting to see if this trend continues. It is so easy to hide and launder campaign money in Alabama that you never truly know if the candidates are being financed by the trial lawyers. It has come to light in recent weeks that the Christian Coalition has been the conduit for out of state gambling money. Their credibility is at a pretty low ebb.
Senior U. S. Senator, Richard Shelby, has only token Democratic opposition. He will be elected to his fourth six year term.
In the first district, Republican Congressman Jo Bonner, has opposition from Democrat Judy Belk, but she will be badly outspent. The best congressional race may in the third district. First term Congressman, Mike Rogers, faces a challenge from political veteran Bill Fuller. However, Rogers can outspend Fuller 10-to-1. Republican Robert Aderholt has an unknown running against him in the fourth. Bud Cramer should win reelection easily to his fifth district Tennessee Valley seat although he does have Republican opposition. Spencer Bachus, the sixth district Republican from Vestavia has no opposition. Seventh district, Artur Davis, also has token opposition.
Our delegation should remain unchanged. It will probably still be 5 Republicans and 2 Democrats after the November 2 voting.
Jim Sullivan, the Republican incumbent, President of the Public Service Commission has no opposition.
The best statewide race may very well be between Democrat Sharon Yates and Republican Tommy Bryan for a seat on the Court of Civil Appeals.
On the local level there are some very good County Commission and district Attorney races. These local races may bring out as many voters as the Presidential race. Remember, "All politics is local."
---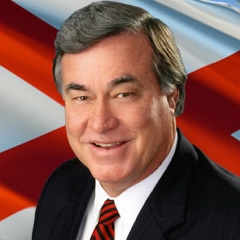 Alabama's premier columnist and commentator, Steve has analyzed Alabama politics for national television audiences on CBS, PBS, ABC and the British Broadcasting Network. Steve has been an up close participant and observer of the Alabama political scene for more than 50 years and is generally considered the ultimate authority on Alabama politics and Alabama political history.
All author posts